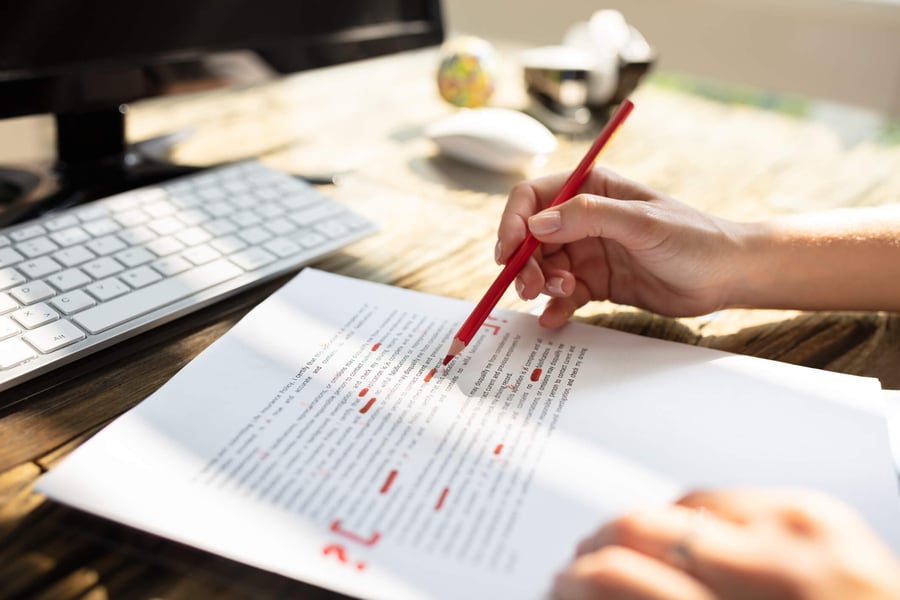 You've made the decision to advance your career by earning a graduate degree.
You've spent time choosing a graduate school, or at least narrowing down your list of potential schools.
You've requested your transcripts and letters of recommendation.
Now it's time to craft your personal statement for grad school — the essay that adds the human element and character to your application. When strategically thought out and well written, your statement of purpose can be the final nudge the application committee needs to give you the "yes" you are hoping for.
What is a personal statement for graduate school?
A personal statement is a requirement for most graduate applications and is used to convey the value you will bring to the graduate program. You will want to answer the specific prompts provided, while highlighting why the application committee should choose you over other candidates.
This is a great opportunity to showcase how your grit and determination will shine when challenges arise.
Keep in mind, there is a delicate balance you'll need to maintain throughout your essay — you should convey your value authentically without sounding pretentious. Maintaining an awareness of your audience, your objective and your tone can help you develop a winning strategy for your personal statement.
To help you with your application, here is a list of five tips from our admissions professionals to help you craft a compelling personal statement so you can present yourself in the best way possible.
Pro Tip: Looking to earn a graduate degree in 2022? This blog is a must-read!
1. Draft a grad school personal statement outline.
This first piece of advice might be the most important – draft a grad school personal statement outline. Outline the points you wish to make in an organized way. Doing so will help you draft a grad school personal statement that flows and that makes logical connections between ideas and themes.
While an outline might seem unnecessary, it's a great way to organize and rearrange your thoughts and simply get you started.
Further, in the guidelines for the personal statement, you will be instructed to answer a few specific questions, or describe yourself and your ambitions in general. Whatever is asked of you, stick to it. The guidelines will also include parameters such as a word count and specific formats or submission methods.
Your personal statement is an excellent opportunity to demonstrate that you can creatively stand out while also following instructions.
2. Self-reflect and consider this a self-evaluation essay for graduate school.
Self-reflection gives you a chance to evaluate who you are, where you want to go and how you plan to get there. A few questions you can ask yourself are:
Why am I applying to graduate school?
What are the strengths I will bring to this graduate program?
What experiences have shaped my decision to apply to graduate school?
How do I know I have the perseverance needed to complete graduate school?
Once you've completed a self-evaluation, go ahead and ask friends or family for their perceptions. Ask those who know you best to describe you in five words. While your own insight is really what the admissions committee wants to hear, other people's impressions of you can help you gain a well-rounded perspective of your strengths.
Writing and selling yourself might feel uncomfortable or overwhelming, and combining the results of your self-reflection with others' insights will give you tangible and authentic material to use when crafting your personal statement.
Authenticity is key in your personal statement – do not exaggerate experiences or use words outside of your vocabulary. Make sure your writing is genuine and impactful; your audience will recognize if your statement lacks sincerity.
3. Use concrete and real examples from your life.
Sticking to the theme of authenticity, using real and specific examples from your life in your personal statement will help give the reader a glimpse into who you are and allow him or her to connect with you on a personal level. These kinds of examples demonstrate your character to the committee and show that you are the type of candidate they are looking for. Using instances from your personal life and experience will illustrate that you have the qualities and characteristics needed to thrive in a graduate program.
Graduate school is intended to be challenging. In your personal statement, you can use stories to show that you can cope with and persevere through stress and adversity. Rather than simply stating that you're motivated to succeed, you can actually demonstrate this through real-life examples. For instance, you could write about how you were on the dean's list every semester of your undergraduate degree or talk about the time you didn't understand a complicated math concept, so you sought additional help from a tutor and created a study group with your classmates.
4. Have multiple people proofread your personal statement and ask them to provide feedback.
Admissions committees receive hundreds of graduate applications each semester, so it's essential to grab your reader's attention and make an impact by using concise language. Make sure to use clear language and actively avoid filler phrases and tangents to ensure your statement remains succinct and compelling. Your statement should be enjoyable to read and leave the committee with a strong desire to have you in their program.
Proofreading your own writing allows you to double check that you've included all the necessary components for your personal statement, but make sure you ask multiple people to edit your statement and offer feedback before you submit your response to the admissions committee. Other people's feedback will help catch grammatical mistakes, point out areas that are unclear, ensure that your writing is engaging and give you a sense of how the essay is perceived by others.
After receiving feedback, consider the edits, make the appropriate changes and have someone proofread it again. Wash, rinse and repeat until you are satisfied with the final product.
5. Don't wait until the last minute!
Another crucial piece of advice – don't procrastinate! Leave yourself enough time to write, proofread and rewrite, so you won't be rushed. This will help you avoid careless errors and will give you time to reflect on what you are saying in your statement, which ultimately helps you craft your most compelling writing.
As we mentioned above, since getting started can be one of the more difficult points in the process, try creating an outline and lay out the key points you want to cover in your personal statement.
Need more tips on how to write a personal statement for grad school? We can help!
Your personal statement is a fundamental component that gives character and adds a human element to your graduate school application. With a little planning and intentionality, you can use this opportunity to showcase your personal strengths and character to appeal directly to the admissions committee.
At Kent State, we work to keep our graduate programs competitive yet accessible and hope that, with a little guidance, we can take the guesswork out of applying for graduate school and help you craft a statement of purpose that will win over your reader.
You can find your graduate coordinator's contact information here — your graduate coordinator will be able to answer any program-specific questions. In closing, if you are ready to pursue a graduate degree at Kent State University, please request more information or start your online application today.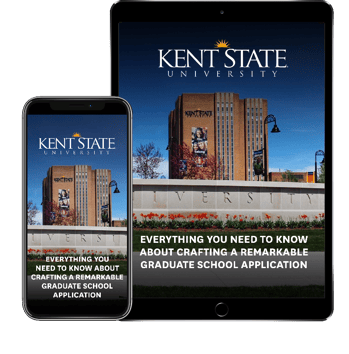 Ready to kickstart your academic journey?
Explore our digital resource: Everything You Need to Know About Crafting a Remarkable Graduate School Application!