Maybe when you were 18, you decided to major in education or business, but now that you have a few years of experience in the workplace under your belt, you really want to pursue a different career in marketing, public affairs or behavioral sciences.
In other words, you want to totally change careers.
Whether you are switching fields entirely or just changing career positions in your field, you have a practical option for making yourself indispensable in the workforce: changing careers with a master's degree.
Returning to the classroom after being out of school for a few years may sound like the last thing you need to add to your busy life, but going back to school could be the best first step in making a career change.
More and more adults are using a master's degree to leverage themselves into new industries and higher-paying salaries in the middle of their career.
1. A graduate degree makes changing careers easier:
If you've been thinking about a different career or industry, you might be hesitant because of how much you don't know. A graduate degree will provide you with the experience and hands-on skills needed to excel in a new career.
For example, educators may have a strong talent for lesson planning and classroom management, but if they would like to switch careers and become digital scientists, then they are going to have to go back to school to learn about computer science and digital network management.
While soft skills like strong communication and attention to detail are important in all fields, changing careers often requires learning the hard skills specific to that industry — obtaining a master's degree can serve as the launching pad for your new career.
2. Getting a graduate degree can make you indispensable to employers:
As you might expect, having a master's degree can make a big difference in the industry you want to move into. A graduate degree shows your commitment to moving up in an industry and an eagerness to learn more. Graduate programs are often specialized and focused on a particular set of skills, so you are more qualified and competitive when you apply for your new dream career.
Employers also see a graduate degree as a sign of a strong work ethic. Graduate school is no simple task, especially if you obtain a degree while working, and employers know that the time management skills and soft skills you develop while earning a graduate degree are valuable assets in any employee and in any industry.
3. Graduate school enables you to network with like-minded professionals:
You probably have a solid network in your current role, but these contacts won't necessarily help advance your career if you decide to switch to a new profession. Taking courses from experts in your chosen field will offer you a huge advantage. Get to know your professors and let them know how serious you are about changing careers. Talk to your classmates and get to know them and their networks.
By the way, faculty and classmates can be available as references and/or job resources down the road, so take the time to work with your professors and classmates and help them learn more about you. Strengthening relationships as you study can lead to job opportunities, internships or other useful experiences as you make a career transition.
4. Grad school will make you more marketable and competitive for promotion opportunities:
A graduate degree not only increases an applicant's chance of getting hired, but it increases the probability of a promotion.Thirty-six percent of employers reported that they would be unlikely to promote someone who doesn't have a college degree. Advancing your skill set through continued education, and ensuring that you are among the most experienced candidates, will help you stand out when an opportunity for advancement arises.
In career sectors where a graduate degree is not required for an entry-level position, having a master's degree can open doors to more senior level jobs, with higher paying salaries, more responsibility and a greater opportunity for management.
5. Grad school promotes personal growth:
While college can be a time to discover your strengths and passions, there's a good chance you came out of college without really knowing yourself or what you wanted from a career. Going back to graduate school can serve as a second chance to reevaluate your strengths, tackle a challenge and fall in love with learning.
Many people talk about the sense of accomplishment that they have when they think about their years of graduate study, and how, holistically, it made them a stronger, well-rounded person.
Also, if you're apprehensive about taking time away from your family or worried that you won't be able to handle a job and grad school, remember that the majority of graduate programs are offered full time AND part time. Depending on your situation, you can pick the course load that works best for your schedule. You can also be a part-time graduate student and remain a full-time employee to help manage expenses.
Additionally, online graduate programs and distance learning are available as convenient options if commuting isn't possible in your current situation.
Make a career change with a master's degree — start your journey at Kent State!
Choosing graduate school is a strategic decision to make when making moves toward changing careers, but the only way to get there is to take a confident step forward.
Making a career change doesn't have to be a stressful ordeal — it's part of an adventure into new successes and opportunities. Grad school is the best path to provide you with the knowledge, experience and resources you need to land a job in your new field.
To learn more about how grad school can help you, contact us today!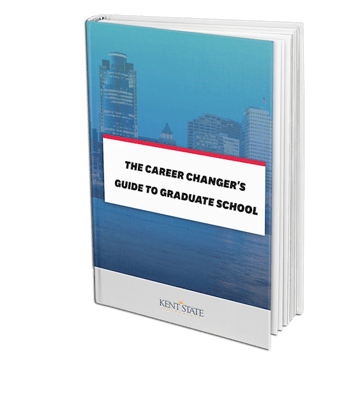 Ready to make a career change?
Download and explore The Career Changer's Guide to Graduate School.