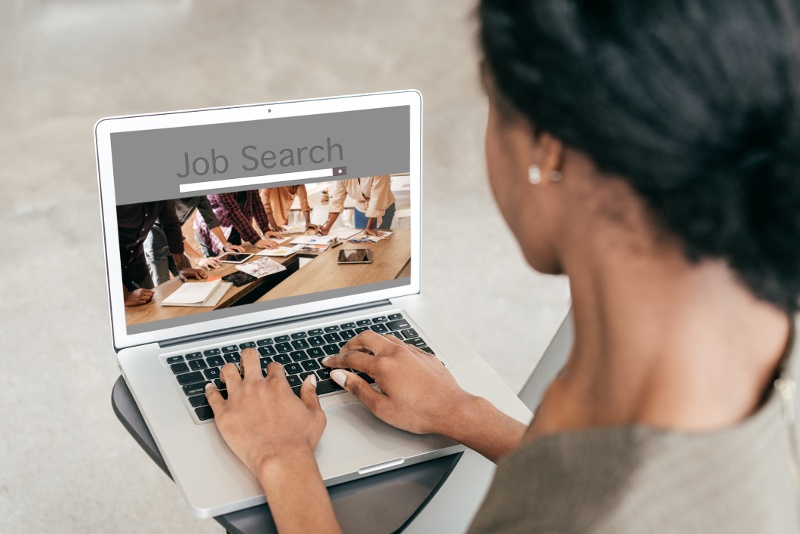 As the unique challenges of 2020 continue to impact work, commerce and travel, the U.S. faces a difficult period of economic recession. About three-quarters of our economic activity derives from consumer spending, and half of that is at risk, making the future for many industries uncertain.
What does that mean for college graduates and seasoned professionals looking for work and thinking about going back to school during a recession?

As the job market takes a hit and the unemployment rate remains high, the candidate pool is bigger than ever — which may make it difficult to land a new job.
With all of this in mind, you may be wondering: should I go to grad school?
If you're considering graduate school right now, you're not alone. Historically, college admissions trend upward during times of economic recession as job seekers choose to forego the suffering job market and pursue their interests in higher education.
As the country experiences the wake of the coronavirus pandemic and the subsequent economic fallout, the experience of many college graduates during The Great Recession of 2008 is comparable to those today. When the struggling economy forced many graduates to make difficult decisions, they persevered and found ways to pursue their dreams, even if it meant taking an unconventional path or changing plans altogether.
Let's take a look at the impact of the last economic recession and how those who chose to go back to school during the recession fared.
The Impact of the Last Economic Recession
The Great Recession, which officially lasted from December 2007 to June 2009, pushed the unemployment rate to a peak of 10.6% in January 2010. People who graduated from college between 2007 and 2011 entered an uncertain world.
For many, the Great Recession of 2008 changed the idea of a career trajectory: it was no longer a single, straight line from college to career to retirement. Suddenly, entire industries were wiped out, and hiring freezes meant that many industries weren't hiring recent graduates — or anyone at all.
Thus, millions of recent grads had to recalculate and rediscover how to secure a career.
With recession unemployment preventing many from pursuing their chosen careers, from 2006 to 2011, college enrollment grew by 3 million. This contributed to the "overall growth of postsecondary enrollment during the Great Recession," according to a U.S. Census Bureau report on postsecondary enrollment before, during and after the 2007 recession.
Those who chose to take advantage of this temporary interruption by pursuing an advanced degree saw graduate school as a strategic step that would make them more marketable in the workplace in the long term. As a result, about ten years ago, the job market was flooded with candidates who pursued graduate degrees during a time of great economic recession.
Let's explore some of the trends we've seen in the job market over the last ten years for those holding a master's degree.
Is a Master's Degree Worth It? Trends in the Job Market Over the Past Decade
Over the last decade, the master's degree has become increasingly valuable, and increasingly profitable. Some estimates show that 27 percent of employers currently require a master's degree for roles in which historically undergraduate degrees sufficed.
Additionally, employment in master's-level occupations is projected to grow by almost 17 percent from 2016 to 2026, the fastest of any education level.
In 2018, master's degree holders earned a median annual salary of $74,568, and those with a professional degree earned $97,968, while those with a bachelor's degree only earned $62,296. Additionally, by earning your master's degree, the likelihood that you will move into a management position increases from 64 percent to 85 percent.
Graduate students from the last recession not only built their professional credentials, but they also developed an important and unique perspective, leading to the acquisition of valuable life skills. They learned to be financially responsible and how to make the most of a difficult situation — skills that are important for success no matter what turns your career path may take in the future.
Many were forced to move back in with family, to take jobs unrelated to their career aspirations and to scrape together what they could to pay their bills. Little by little, things changed and the economy began to recover. Jobs opened up, part-time unpaid gigs turned into full-time work and for many, full-time work turned into a career.
If you're concerned about your own career path taking some unexpected turns, rest assured that a less-than-perfect resume won't hold you back. Many individuals who graduated during the last recession are now the managers responsible for hiring, and if anyone understands a resume that's less than tidy — they do.
Deciding on Grad School: The Benefits of a Master's Degree in Today's Climate
The national unemployment rate peaked at 14.7 percent in April 2020. While that rate has dropped in recent months, the future of the economy remains uncertain, especially for recent graduates.
Going to graduate school during a recession can be a smart move if it will allow you to increase your salary and progress more quickly — but it may not be for everyone. Before selecting a graduate program, here are some important questions to consider:
What do jobs in this industry pay for those with a master's degree?
Will my future career likely require a graduate degree?
Is the industry growing or shrinking?
Here Are a Few Important Benefits of Pursuing a Master's Degree
In a recession, there is a low opportunity cost of going to graduate school — meaning you're less likely to pass up potential work opportunities by heading back to school. If you've been considering graduate school as part of your future plans, now may be the best time to get a positive return on your investment.


For the 2020-2021 academic year,

the U.S. federal government announced

that interest rates for direct unsubsidized loans for graduate students will drop to 4.3 percent. If you were planning to go back to graduate school eventually, doing so during this recession while federal student loan interest rates are lowered might be your cheapest opportunity.


Master's programs can help you build a bigger, stronger career network than you would have with just an undergrad. Graduate programs can help connect you with alumni and other professionals working in your intended field, giving you a better chance of securing a job after graduation.


Bureau of Labor Statistics

data from 2019

shows that graduate-degree holders, on average, had the lowest unemployment rates and highest earnings. If you want to poise yourself for a long and successful career, a graduate program can give you the boost you need.
Grad school isn't just a place to wait out an unstable job market. Rather, it can be a calculated career move, if you're smart about it. The most important thing to remember is that, in times of economic crisis, there is no one-size-fits-all solution.
Pursue Your Graduate Degree at Kent State University!
Located in Northeast Ohio, Kent State University prepares students for academic, research and professional careers by offering 24 master's degrees in 112 majors and 5 doctoral degrees in 48 majors. With a reputation for excellence and a strategic vision for transforming the future, our graduate programs have something for everyone.
Thanks to a new initiative, out-of-state residents who earned a bachelor's degree in Ohio can now save on tuition for graduate programs at Kent State University. The program allows graduate students who earned their undergraduate degree in Ohio to be eligible for in-state tuition rates. This tuition discount drastically reduces tuition costs, cutting the rate for eligible full-time graduate students by nearly half, making graduate school an affordable and promising option in today's uncertain climate.
If you're ready to pursue a graduate degree at Kent State University, we invite you to request more information or begin your application today!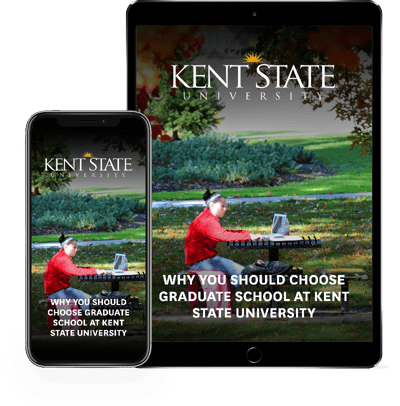 Considering graduate school? Download our new guide: Why You Should Choose Graduate School at Kent State University!