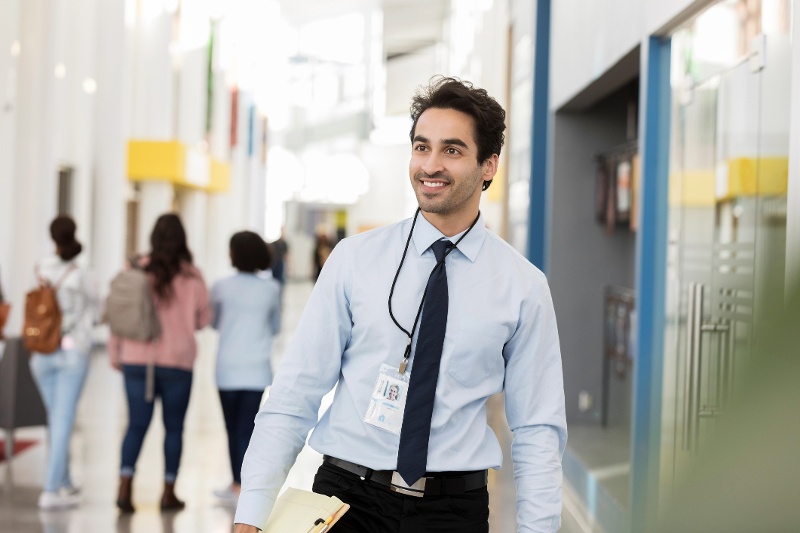 If asked to name a career in the education field, people often instinctively think of a traditional classroom teacher.
Without a doubt, classroom teachers are the lifeblood of education – they are on the frontlines of educating future generations. Educational career options, however, are not limited to the classroom.
The field of education requires specialists and behind-the-scenes experts to keep all facets of the educational system working efficiently. For example, every school has a principal and others serving in professional or specialty positions, such as special education teachers and school counselors. There are also those who work to influence the curriculum and culture of the educational system through research and leadership positions.
Undoubtedly, the underlying goal of all these careers is a desire to encourage and educate our future leaders.
Not surprisingly, there are a few different graduate education degree options that can help you on your desired career path in education. While you can typically get away with a broad degree choice for undergraduate work, graduate degrees require more narrowed focus.
The three primary graduate degrees for education are a Master of Arts (M.A.), a Master of Arts in Teaching (M.A.T.) and a Master of Education (M.Ed.).
This article will help you decipher the differences between these degrees and determine which one will be best suited for your desired career path.
What is an M.A.?
While a Master of Arts degree can provide continual training for teachers, it is also the best choice for those who want a career in leadership, research or continued study in a doctoral program. This degree is typically the best option for students who envision themselves outside of the classroom and want to make an impact on the policies and procedures surrounding education.
The M.A. degree offers breadth and depth in the application of the principles to learning and instruction and is tailored to your desired career path. The curriculum includes classes on education and advanced coursework in your specific area of study.
Pursuing an M.A. degree at Kent State can set you up for the following career paths:
Educational researcher
Educational psychologist
College counselor
School psychologist
College professor
What is an M.A.T.?
For people interested in educating students in the traditional classroom setting, the Master of Arts in Teaching degree is the appropriate choice. The M.A.T. is also be the best choice for those who have bachelor's degrees in a non-education major or for people wanting to make a career change and become certified to teach a certain age group or in a specific state.
An M.A.T. degree creates the foundation for future teachers in the realm of pedagogy and theory while providing hands-on experience on effectively transmitting information to students. The curriculum focuses on how to teach and includes both classroom and field placement training.
Pursuing an M.A.T. at Kent State will prepare you for the following careers:
Kindergarten teacher
Elementary teacher
High School teacher
Community college professor
Adult education teacher
What is an M.Ed.?
Finally, the Master of Education degree is most suited for those who desire to work in mid- to upper-level areas of school professional practice. If you want to work in school psychology, educational psychology, school counseling or special education, the M.Ed. is the degree you need.
A student's chosen career path will determine his or her coursework, as well as any licenses and endorsements needed to accompany the degree.
Pursuing a M.Ed. at Kent State will prepare you for the following careers:
School counselor
Special education teacher
Educational researcher/analyst
Senior curriculum specialist
College counselor
Instructional coordinator
Choosing the right master's degree in education for you:
While trying to determine which degree to pursue can seem overwhelming, the graduate education programs at Kent State can help take the guesswork out of selecting the right one. Additionally, whichever path you choose will be tailored to your specific interests and desired career path.
The M.A. degree only has one track in educational psychology, but you select your curriculum based on whether you want to continue in a doctoral program or pursue a career in research.
The M.A.T. option offers two tracks – the M.A.T. in early education for those wanting certification to teach grades K-5 or an M.A.T. in secondary education for those wanting to teach language arts, math, science or social studies for grades 7-12. Those who want to be multi-age teachers in art, dance, foreign language, music and health should also consider an M.A.T.
The M.Ed. has four concentrations available – school psychology, school counseling, special education and educational psychology. Based on your specific situation and if you are going to school full- or part-time, all of the master's options typically take less than two years to complete. Furthermore, some of the options will require certifications or field experience.
Earning a graduate degree in education will not only increase your earning potential, but it will also make you a more well-rounded, experienced professional who can help shape the future of education – whether you want to be a classroom teacher, an administrator or a researcher in the field of education.
Transform your future with a master's degree in education at Kent State:
Whether you are already working in the field of education or are hoping to transition into a career as a teacher or in an education-related discipline, know that a graduate degree is a smart, strategic step that offers you a noticeable return on your investment.
If you have any questions about the degrees mentioned above or about how these education degrees will prepare you for a rewarding career, please feel free to request more information today.
If you are ready and eager to get started on your graduate school journey, you can begin your online application here. We look forward to working with you as you achieve your educational goals!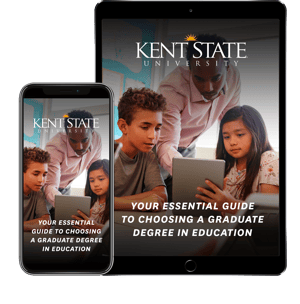 Download Your Essential Guide to Choosing a Graduate Degree in Education to make a final decision on whether or not an M.A., M.A.T. or M.Ed. is right for you.