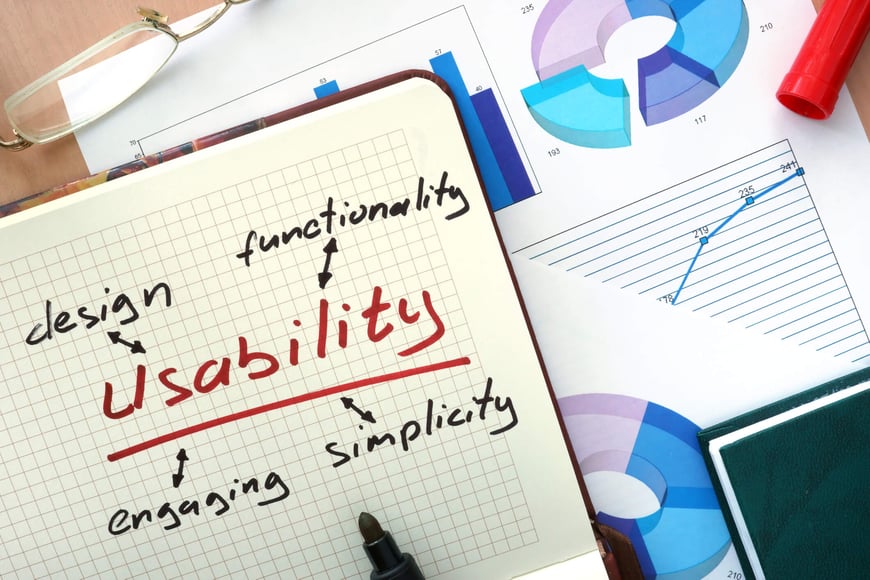 UX Design focuses on creating products that provide both practical and personally relevant experiences. The "experience" concept of this unique design field has to do with the user perception, action, and cognition regarding the given product, all of which form a "user experience."
Simply put, UX Design combines the deliberate design of both a "product's usability and the pleasure consumers will derive from using it." However UX Designers often do a lot more, getting involved with the integration of the product, which can include branding, design, usability, and function.
Contrary to popular belief, improving user experience is not limited to technology. Take IKEA for example: they disrupted the furniture shopping experience by transforming the way customers move through the store, inserting a restaurant where customers may start to feel hungry, and empowering customers with a "DIY" attitude that emotionally connects them to the products they build.
Whether or not IKEA was aware that their actions exemplified design thinking, they are a perfect example of what it means to embrace this problem-solving strategy as a process and tool for designing an innovative user experience.
What is Design Thinking Anyway?
"Design thinking is a human-centered approach to innovation that draws from the designer's toolkit to integrate the needs of people, the possibilities of technology, and the requirements for business success." — Tim Brown
Design thinking is a 5-step process for solving complex problems with innovative solutions. The entire process is human-centered, meaning that every phase of the design process is "inspired," and supported, by human needs and interactions, for example:
Do you think that buying new furniture is too expensive? Go to IKEA.

Do you believe furniture shopping is boring? Go to IKEA.

Would you rather build your own furniture? Go to IKEA.

Feeling hungry? Go to IKEA.
Design thinking has proven successful because it enables businesses to connect both analytical and creative strategies in business. And while the concept is not new, it has grown in popularity over the past several years as businesses strive for competitive advantage.
The Five Steps of Design Thinking
Let's pretend you're an entrepreneur who wants to disrupt the furniture-making industry even further, but you aren't sure where to start. You have ideas, but none of them seem clear, valuable, or even possible — that's where design thinking comes in. Design thinking helps bring order out of chaos through a five step process, which includes:
Establish Empathy:

You can not design a product or service without understanding your target audience on an emotional level. Therefore, it's important to take time to understand your audience's goals and pains by completing both secondary research and primary research
Secondary Research:

Familiarize yourself with the industry you are trying to disrupt by studying past innovations, leading companies, common trends, etc. History often repeats itself, but you don't want to spend time developing a product or service that either exists or existed and failed.
Primary Research:

Conduct customer interviews, take surveys, etc. — but don't just listen to what customers say. It's also important to watch what they do through a collection of shadowing experiences and general observations. It's not unusual for customers to not realize what they need until a solution to a problem is brought to their attention.
Define the Problem:

After collecting research, it's time to organize the data and information so that you can define the problem. Research can seem overwhelming at first, so designers have often use something known as the "working wall."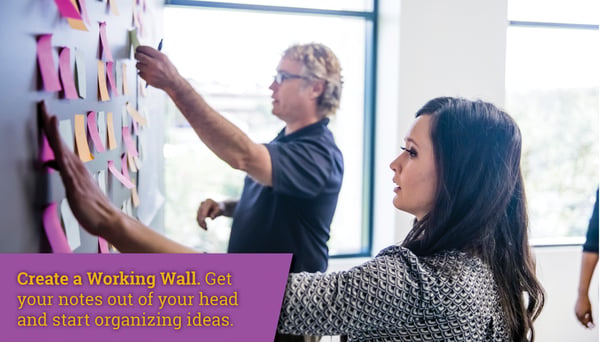 To start a working wall, you will need a collection of post-its, sharpies, strings, and pictures. Once you have the necessary materials, you can organize your information by recording your research points on individual post-its, and creating groups of post-its and pictures based on commonalities and themes. The string and dry erase markers are two tools used to connect the dots and draw conclusions, but you can repeat the clustering process until you reach a point of clarity and can clearly define the problem in a simple sentence or two.
Ideate Solutions:

Once you define the problem, the fun begins! It's time to start rapid brainstorming. This phase of the process should be quick and free of judgement. Record every idea that comes to mind, no matter how outlandish the idea may seem. After all, you will never know what idea may work until you go through a series of prototyping and refinement.
But until then, it's important to keep a steady flow of ideas. If you start to think too much, just walk away, or ask a colleague for help. Ideation is a time to play and conduct "outside the box" thinking, so get creative and have fun! (But remember who you are designing for — the user!)
Prototype Your Solution:

In order to properly test an idea, you must have a prototype readily available. Prototyping comes in many forms, including cardboard boxes, foamboard, hammer and nails, paper and tape — whatever works!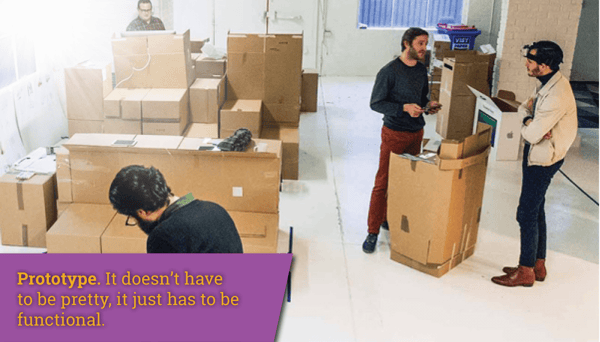 The key to prototyping is to either act out the service in a realistic scenario, or if it's a product, build a prototype with accurate measurements and function. This is your time to bring "crazy ideas" to life by discussing the technicalities and asking realistic questions.
Test and and Refine:

Once your prototype is finalized, it is important to take your solution back to the user and ask for feedback. Don't be discouraged if problems occur and you have to reiterate the process. Testing is your opportunity to refine your product or service before spending money on production. Save yourself from future disappointment by designing a product or service that is promised to work for the user.
As technology continues to advance, and consumers become more entitled to exemplary customer service, human-centric thinking becomes not only essential, but required. Design thinking is a tool for UX designers to help businesses stand out and push forward into new and innovative landscapes, while also keeping the user in mind throughout the entire process.
The Benefits of Advanced User Experience Design Programs
You do not need a background in technology or design to start a career in UX Design — you just need to understand how people think and then take the necessary steps to break boundaries and ideate radical solutions.
So, how can you get started and ensure future success?
An article by Nielsen Norman Group states that in the field of UX Design, 52 percent of professionals have a master's degree. And while it's possible to secure a career in UX Design without a graduate degree, it "makes sense to aim for a specialization that targets user experience, because the percentage of relevant degree is much higher at this level among your peers in this field."
In other words, by pursuing an advanced degree in UX Design, you will sharpen your skills and set yourself up for recognition in the field.
Curious to learn more about design's evolving landscape and the future of UX? Download our complete guide, which discusses various paths to success, the career outlook, and the exciting job opportunities that UX design can offer you.
The Ultimate Career Guide for Aspiring UX Designers