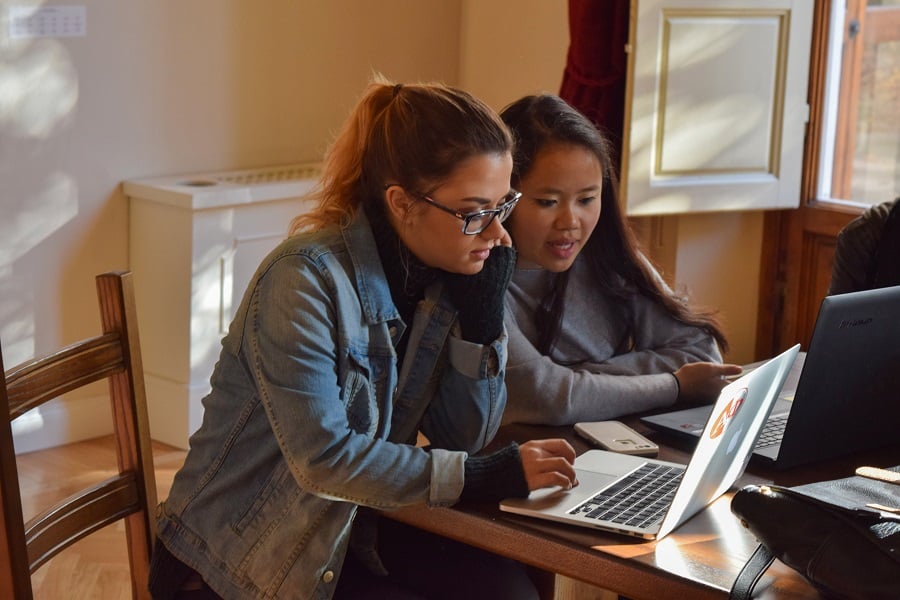 Pursuing your graduate degree just became a lot more affordable. Thanks to the recently announced in-state tuition option, out-of-state residents are now eligible to receive a tuition discount when they pursue a graduate degree at Kent State. This in-state tuition discount applies to anyone who has earned a bachelor's degree from a public or private institution in Ohio and wishes to continue his or her education. While not all schools are offering this option, Kent State University is proud to be making it available for all its masters and doctoral programs (except the Doctor of Podiatric Medicine degree).
Because those who have completed a bachelor's in Ohio have contributed significantly to the state, offering an in-state tuition rate honors their commitment and efforts. Kent State wants to return the favor by making all of its world-class graduate degree programs affordable to those who have been our neighbors and have helped support our communities.
Taking Advantage of In-State Tuition at Kent State
Kent State's extensive program offerings include 23 master's degrees in 108 majors and 146 concentrations and five doctoral degrees in 39 majors and 30 concentrations. If you're interested in taking advantage of the in-state tuition option, consider pursuing one of these flexible and dynamic degree programs at Kent State University:
1. Curriculum and Instruction

The Curriculum and Instruction program at Kent State offers graduate degrees intended for those pursuing intensive advanced study in curriculum and teaching. The Curriculum and Instruction Master of Education (M.Ed.) allows students to focus on one of seven specializations: curriculum and teaching studies, middle childhood education, English/language arts education, mathematics education, science education, social studies education and physical education. The Ed.S. program and doctoral program are for those who wish to become university educators or to hold leadership positions in areas of curriculum, supervision and teacher education.
2. Library and Information Science

The School of Information at Kent State University offers Ohio's only American Library Association-accredited Master of Library and Information Science (M.L.I.S.) degree program. U.S. News and World Report ranks our M.L.I.S. program among the top 20 in the nation. Our graduates are qualified to fill every conceivable role on the information spectrum and, with admissions and classes offered year-round, the School of Information delivers a personalized program to prepare you for the next step in your professional career.
3. Engineering Technology

Engineering Technology is a branch of engineering education that emphasizes the practical aspects of engineering. It combines theory with hands-on technical skills, providing support of engineering activities. The Master of Engineering Technology degree at Kent State is intended to prepare graduates for work as a manager or part of a management team in technological, manufacturing or engineering entities.
4. Human Development and Family Studies

Human development and family studies (HDFS) is the study of how people develop physically, emotionally and socially within the context of the family and society. The Master of Arts in Human Development and Family Studies at Kent State provides students with advanced knowledge in the field and the opportunity to develop multidisciplinary research and community outreach skills. The program emphasizes both basic and applied research, and graduates are prepared for leadership and teaching positions in the social services, junior and community colleges, cooperative extension or for pursuing doctoral-level study.
5. Public Health
Public health – a particularly relevant field at this time – is the discipline in which professionals aim to serve the common good by researching, developing and implementing policies, strategies and educational campaigns to help keep populations healthy. Their goal is not only to reduce the spread of disease and illness, but also to promote general wellness within individuals and communities. The Master of Science in Public Health from Kent State offers five specialty areas – epidemiology, biostatistics, environmental health sciences, social and behavioral sciences and health policy and management. Each of these programs offers students the real-world experience and skills they need to make a difference in their public health career.
6. Educational Psychology
Educational psychology is a field for those interested in the application of psychological principles to learning and instruction. Kent State offers two different master's degrees in the discipline — an M.Ed. and an M.A. The Master of Education (M.Ed) is the general degree program, appropriate for teachers or trainers and is offered 100% online. The Master of Arts (M.A.) is more research-oriented and is for those who intend to write a thesis paper. Kent State also offers a Ph.D. program, which provides extensive training in the field of educational psychology.
7. Journalism and Mass Communications
As the only accredited school of its kind in Northeast Ohio, the School of Journalism and Communication at Kent State helps students discover the power of storytelling. The master's in Journalism and Mass Communications is designed to give students a strong foundation to achieve their future goals in the rapidly changing media industry. Wherever critical thinking and solid reporting make a difference, you'll find JMC graduates excelling.
Pursue your degree in Ohio
—

at Kent State

We know that choosing to pursue a graduate degree isn't an easy decision. By offering the in-state tuition discount on all our graduate programs, we want to make advancing your academic and career goals accessible and affordable.

Kent State recognizes the contributions you've made to the state of Ohio, and we're committed to opening as many paths forward for your future as possible. If you're interested in learning more about the ROI a graduate degree and the steps required to get there, be sure to check out our Graduate School Decision and Admissions Guide. When you're ready to begin your graduate school journey, we'll be here to help you every step of the way.
Learn more about the hundreds of master's and doctoral programs Kent State offers by exploring our graduate programs guide!