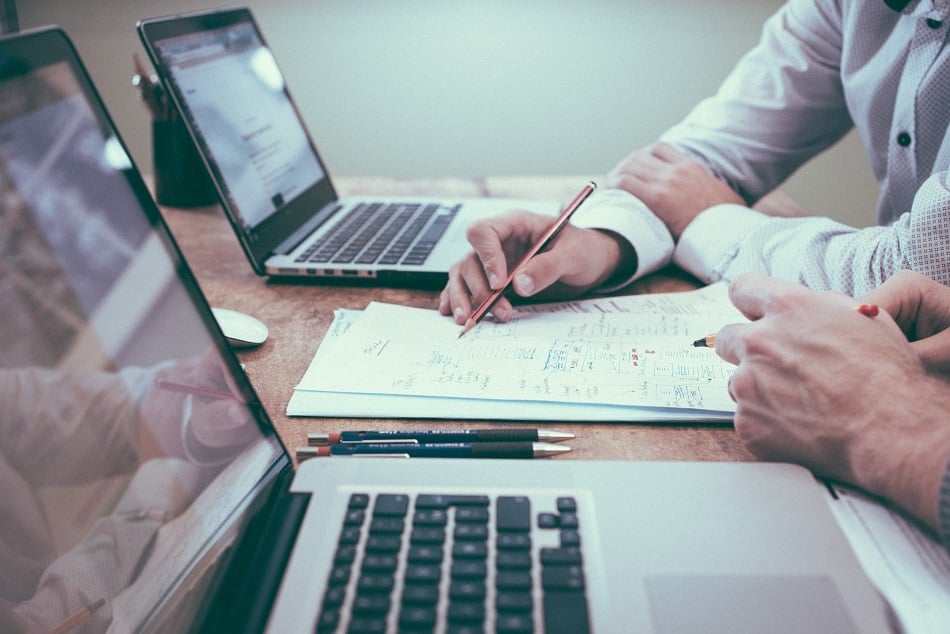 In this new year and new decade, it's the perfect time to pause and ask yourself—where do I want to take my life in the coming years? How can I jump into a new career or leverage my existing professional path with additional skills? Do I need a graduate degree in order to reach my career goals?
If you've decided (or if you're close to deciding) that you want to pursue a graduate degree as a way to transform your career, you're probably considering the best next steps for applying to graduate school, determining how to choose a graduate program that's right for you and the ways in which you'll go about financing graduate school.
With this in mind, here are several tips to helping you choose a graduate program in 2020.
1. Nurture your big-picture thinking.

Big-picture planning: This is how we recommend you start exploring the prospects of earning a graduate degree and how doing so will affect your overall life goals. Begin with some important self-reflection and bring all your questions and desires to the forefront.
You may want to write down your goals and interests—starting with why you want to pursue a graduate degree and articulating your goals for life beyond graduate school. You should also use this big-picture approach to determine how you want to pursue a graduate degree. For instance, will you need to complete the degree on a part-time basis? Will you need to work while in graduate school? Do you need some guidance on returning to graduate school as a parent (specifically, for moms returning to graduate school, we know you have a lot of questions and concerns!)? Prioritizing this type of big-picture planning will make it easier for you to choose a graduate program and subsequent completion option.
2. Zero in on your field of choice and your dream career.

After your big-picture analysis, you'll want to spend time looking into what career options will be available to you after you graduate with a master's or Ph.D. Speak to friends and connections in those fields and do some old-fashioned Internet research in order to gain confidence in your choice. For instance, if you want to advance your skills with a graduate degree in design, you should research the various graduate design programs available to you (Landscape Architecture, Interior Design, Environmental Design) and then determine which one will allow you to land your dream career.
Further, if you're thinking about making a career change, researching your new field of interest will be imperative to choosing a graduate program that will put you on the path to success.
3. Take the time to research a specific graduate school.

Next, with a specific career goal more clearly spelled out, begin researching graduate schools that will prepare you to land the career of your dreams. Many graduate schools have a lot of helpful information on their websites, but you'll need to be proactive in researching the school's mission statement, location, graduate school completion options and more.
For instance, at Kent State University, we are dedicated to developing a community of change agents "whose collective commitment to learning sparks epic thinking, meaningful voice and invaluable outcomes to better our society." We hope to transform the lives of our local communities—and the world—by equipping our graduate students with the skills, knowledge and tools needed to make a real difference. So, if you're excited about making a tangible difference in the world around you, KSU's graduate programs could be a great choice for you!
4. Connect directly with your school of interest.

Connecting with a graduate school admissions officer at your school of interest is a crucial step when choosing graduate school, and it shouldn't be passed over lightly. Graduate school admissions officers not only have the on-the-ground perspective you need to make the best decision for your future, but these professionals will also provide guidance on ways you can stand out when it comes to submitting an application that admissions officers actually want to read.
You should also consider attending a live or virtual event related to the program or the admissions process. The conversations had at these events provide insight into the community of the school you're thinking about joining and answer questions about financing graduate school.
5. Take the plunge! Start applying to graduate school.

After deciding on your program of interest, research which type of application you will need to complete. At Kent State, we've outlined all of our graduate degree options so you can choose the one that best suits your needs. Explore all the options here!
In addition, you'll want to take the following steps when applying to graduate school:
Review the admissions criteria
Collect the necessary paperwork
Complete, review and submit your application
Applying to graduate school is an exciting step in your professional and personal journey, but people often hesitate to reach out to admissions professionals if they get stuck or are unsure of something. So, please feel free to reach out to an admissions officer if you have questions! They are there to help you as you navigate the graduate school admissions process.
Join a community of change agents at KSU!
In summary, there are many steps and factors that go into making strides towards your dream career, and the more you're able to clearly compare graduate programs and pinpoint your ideal career, the smoother the graduate school decision and admissions process will be.
Here at KSU, we've created the Master Graduate Programs Guide as a way to streamline your grad school search and support you in a decision that will ultimately shape your future. This guide is a one-stop resource to find information on dozens of graduate degrees that KSU offers!
We look forward to connecting with you, answering your questions and being a part of your journey to make this new decade one of academic opportunities and growth.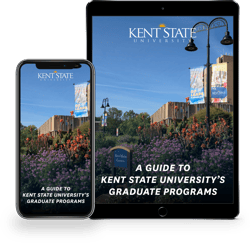 Download A Guide to Kent State University's Graduate Programs today to take the first step in jumpstarting your career.