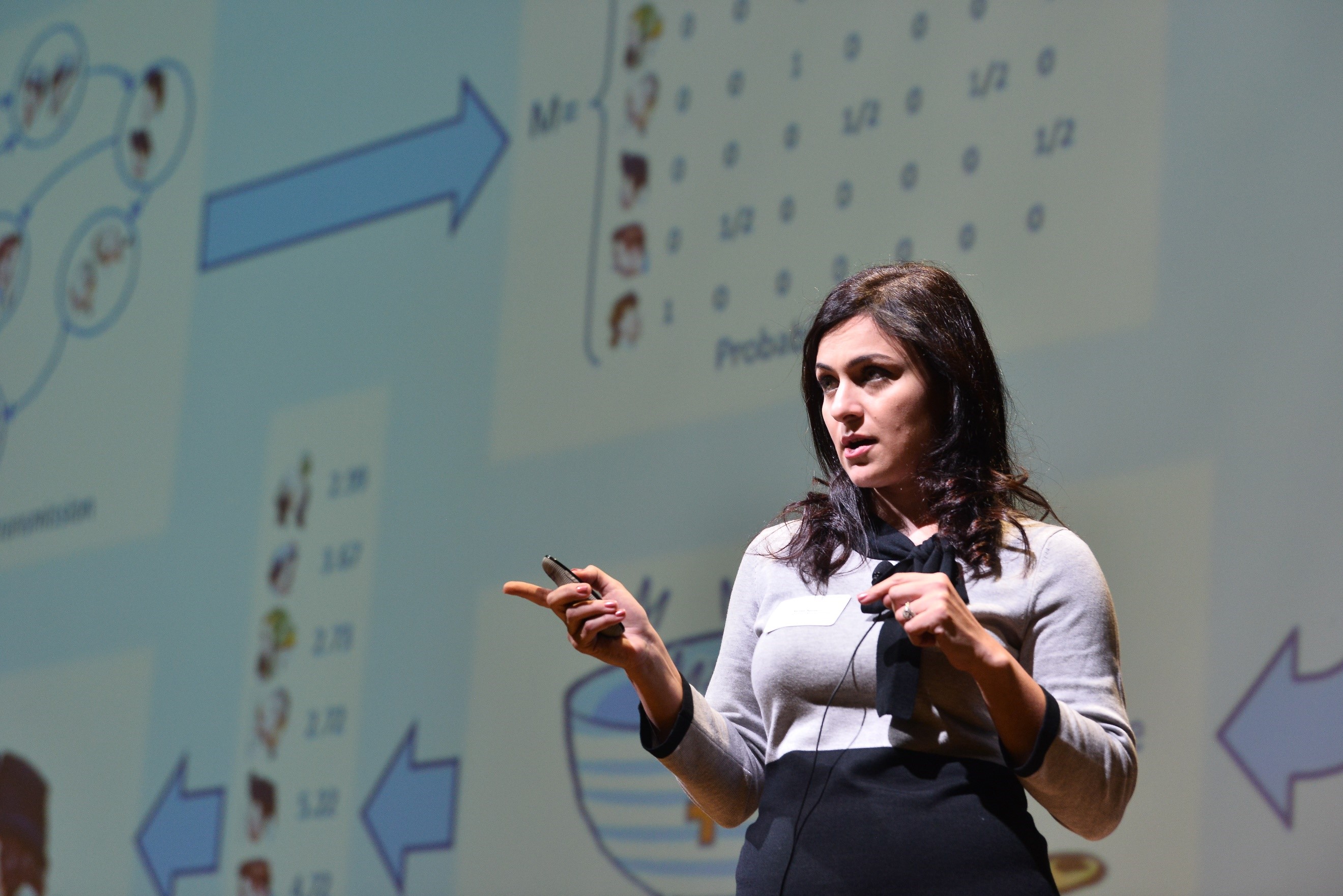 It sounds like something out of a college class anxiety dream: you have three minutes and one PowerPoint slide to explain your research project to an audience who knows little to nothing about your specialty or your subject. Okay, ready…GO!
To most graduate students who take up this challenge, the Three Minute Thesis (3MT) competition not only offers them a chance to develop their academic, presentation and research communication skills, it means the chance to win a cash prize (which helps with buying snacks for those late night dissertation writing marathons).
3MT is not an exercise in trivializing or "dumbing down" research, but forces competitors to consolidate their ideas and crystalize the research they're conducting for a thesis, dissertation, terminal project or any other research project to share with inquiring minds.
Mona Matar and Mathematical Models of Rumor
The 2017 first place winner in 3MT at Kent State, Mona Matar, is working on her Ph.D. in Applied Mathematics while completing internships in data science at NASA and Smuckers.
"I was intrigued by the idea, especially since I study math, a subject most people don't enjoy," says Mona. "It was a challenge to be able to make it more approachable to people."
Mona's topic, "Rumor Has It: a Mathematical Approach," visually shows a network of people talking to each other – who starts the rumor and how it spreads. "I wanted to show my topic with an example. That's what usually grabs people's attention," she says. "I practiced at home in front of my two children and my husband, who is an engineer. That way I could get feedback from all of them, from novice to expert, to see how well they understood my subject."

Mona sees great value in her participation in 3MT.
"I think everyone should enter and include the experience on their résumé," she says. "I also posted the video of my presentation on LinkedIn, then sent it to the person who was interviewing me at Smuckers. He must have shared it with others on his team, because by the time I came in for my interview, they had all seen it. Good communication skills are what people are looking for."
Bill Kelvin and the Shen Yun Dance Company
2017's "People's Choice" award winner at 3MT was Bill Kelvin, a part-time instructor at Kent State, who is working toward his Ph.D. in Communication and Information. This was Bill's third time at 3MT, and his topic was the Shen Yun Chinese dance company and its complex media and public relations machine. "It's the perfect example of a social movement that has really professionalized itself," says Bill.
In his presentation, Bill focused on being both audience-centered and meeting the judges expectations.
"You have to walk a line to do both," he says. "I really tried to keep it personal and in narrative form. I think people liked the topic because it was more human interest and not esoteric or science-based."
Bill, too, found 3MT a valuable experience. "Going through the process has made me more knowledgeable about what a research project is supposed to look like. It's challenging to learn how to write 'tight' to get to the core narrative, and to talk to lay people - to give them enough information to understand the context without taking too much time to do it. Both of those things were very rewarding."
Mona and Bill are just two of the many students who have found the help and opportunities they need to excel in their graduate studies at Kent State. To stay connected with stories, research, and resources from Kent State's Division of Graduate Studies, subscribe to our blog!