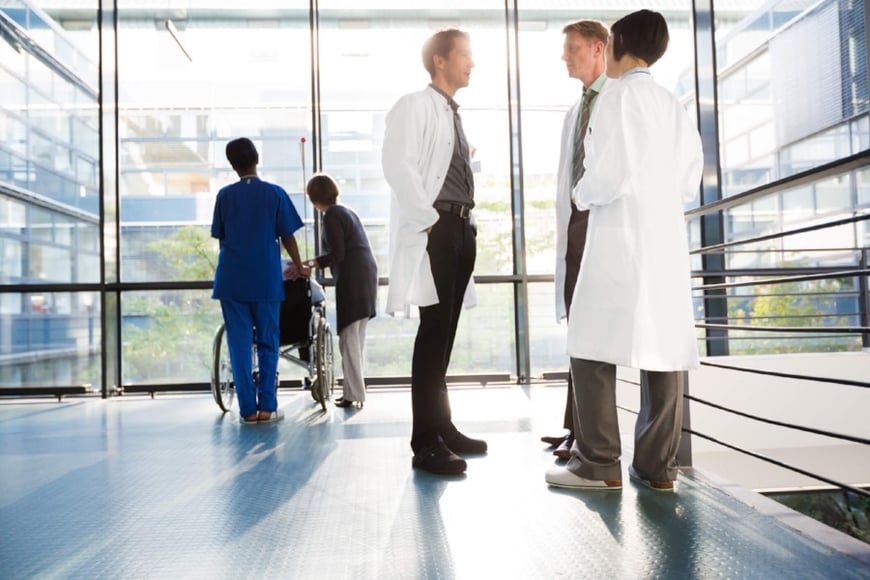 Many of us know what it's like to wander around a hospital or doctor's office in confusion. The complexity of winding hallways, offices, and doors makes these spaces difficult to navigate and is just one of the many stressors that can accompany a health care related experience for patients and their families.
But health care design is working to change all that.
The aim of health care design is to promote recovery and healing, control the spread of and exposure to disease, aid in patient well-being, and implement intuitive way finding techniques that make it easy for families and patients to navigate the space of health care facilities.
What Is Health Care Design?
Health care design is a specialized sector in architecture and interior design that focuses on health care facilities. Relying on evidence based research, and taking into account the needs and experiences of health care administrators and staff, health care professionals (doctors and nurses), patients and their families, these designers apply innovative conceptualization to a number of built environments.
The way a facility is designed, from the moment patients pull up in the parking lot, through the process of admission and check-in, and the ease with which they are able to navigate once in the facility communicates a message. It is the responsibility of the designer, to ensure that the facility is open, welcoming, well coordinated, and stress-reducing, while at the same time balancing security and patient safety.
Some examples of spaces that health care designers are responsible for conceptualizing, designing, and building include:
Emergency departments

Small medical clinics

Neonatal intensive care units

Children's hospitals

Medical villages

Outpatient clinics

Rehabilitation and senior living centers

Hospice care centers
There are many important factors to consider when conceptualizing, planning, designing, and constructing any health care facility. Health care facility designers are often tasked to carefully balance several competing interests, and ensure that the services they provide meet the required standards for safety and wellness.
Why Is There a Growing Need for Health Care Designers?
The Bureau of Labor Statistics has predicted that the health care industry will add more than 4 million jobs between 2012-2022, making it one of the fastest growing industries in the economy. Aging populations are the most frequent users of health care facility. As the baby boomer generation ages and new medical technologies become more readily available and implemented in the industry, there will be an increased need for the creation and renovation of health care facilities in America.
The entire health care industry is continually under pressure to reduce costs, while also increasing the quality of patient care and becoming more responsive to customer demand. Health care designers are increasingly expected to reduce design costs and work on compressed construction schedules, without sacrificing quality.
Innovative facility design has the power to reduce bottom line costs by increasing operational efficiency and productivity, and reducing staffing needs. Additionally, sustainability continues to be a major focus of health care facility design. Environmentally responsible design features can be incorporated into the facility through non-toxic and sustainable building materials, energy and water conservation, and daylighting.
A Beautiful and Healing Career Choice
For anyone who is interested in both the technicalities and innovation of design work and also wants to know that their work is making a real difference, health care design is an exciting and growing field that allows you to combine those two desires.
The design insights you reach while designing health care facilities translate to real, positive impact on patients as they cope with illness and difficulty. In this career field, you are a crucial part of the medical team, working hard for patients long before doctors and nurses have even encountered them.
Interested in learning more about this special field of design and whether it could be right for you? Check out our complete guide to cutting edge design fields to learn more: The Ultimate Career Guide for Innovative Design.