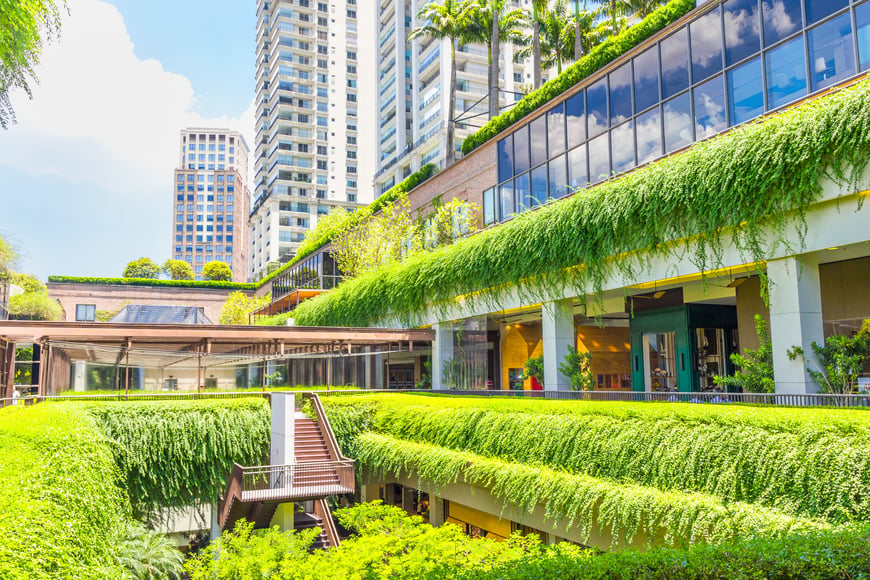 Designers have long considered the environment when planning, conceptualizing and building their designs, but ensuring that design practices have a positive impact on the natural world is a somewhat novel concept that's only been in practice for a few decades.
With the modern world's focus on sustainability, the career outlook in fields related to environmental design are bright. Eliel Saarinen, a famous architect, once said: "Always design a thing by considering it in its next larger context- a chair in a room, a room in a house, a house in an environment, an environment in a city plan." If Saarinen's advice is kept in mind, fields related to the umbrella of environmental design not only have a strong career outlook, they also promise a strong impact on society and the natural world.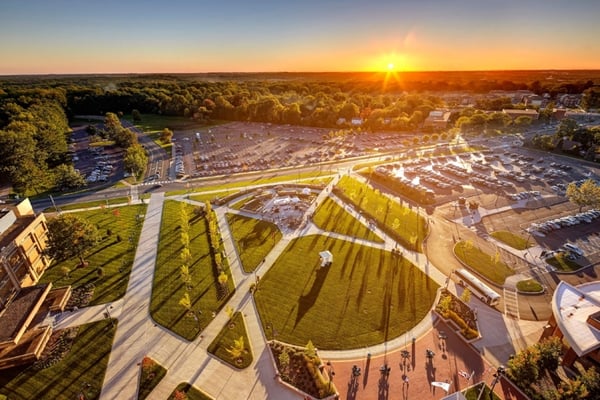 What is Environmental Design?
So, what is environmental design really? Environmental design constitutes a spectrum of interrelated and overlapping areas of design expertise. Architecture is a key part of environmental design. Technical considerations and open creativity remain pertinent to each discipline; however, human interaction and environmental connections are even greater areas of concern. The goal of environmental design is to leverage all levels of human infrastructure in connection with nature in urban and regional settings. To accomplish this, the designer—working at various scales—develops an interdisciplinary skill set with acute knowledge towards urban ecosystems, sustainable practices and social considerations.
Growing awareness of human impact on the environment has changed the conversation around design; designers are not just expected to do less harm or no harm to the environment through their planning but to make their designed buildings and infrastructure practices restorative, for both society and the environment.
Within the broad spectrum of environmental design, a skilled and aware professional might find work in several different sectors, including architecture, interior design, community development, local or regional government, landscape architecture, development or urban planning.
It is in the overall interest of each of these professions, working collaboratively, to make places that seek to enhance—and not disrupt—the natural world.
Job Outlook for Environmental Designers
While the Bureau of Labor Statistics (BLS) does not record job statistics directly for environmental designers, it does record statistics for the sectors in which professionals in environmental design are likely to work.
Here is a glance at the job outlook for these professions:
Salary for Environmental Designers
Similar to above, there are not exact statistics regarding an environmental design professional salary potential. But again, we'll take a look at the salaries across the environmental design spectrum:
Additionally, environmental designers who held master's degrees earned higher salaries in the long term as well. According to Payscale, master's degree-level environmental design professionals who worked in the field for 10 to 19 years earned an average salary of over $100,000 per year.
Environmental Design-Based Graduate Degrees at Kent State University
Kent State University offers a variety of design programs, but of the few we mentioned, here is a quick overview:
Boost your career in environmental design today!
Here at Kent State University, we are dedicated to addressing your concerns and helping you make an informed decision regarding your next academic venture. We hope that this information has been helpful in shedding light on the various innovative design fields and in highlighting what kind of opportunities may be available to you once you pursue a graduate degree at KSU. Contact us today to learn more about boosting your career!
Interested in learning more about careers in environmental design and other unique design fields? Download the Ultimate Career Guide Innovative Design!