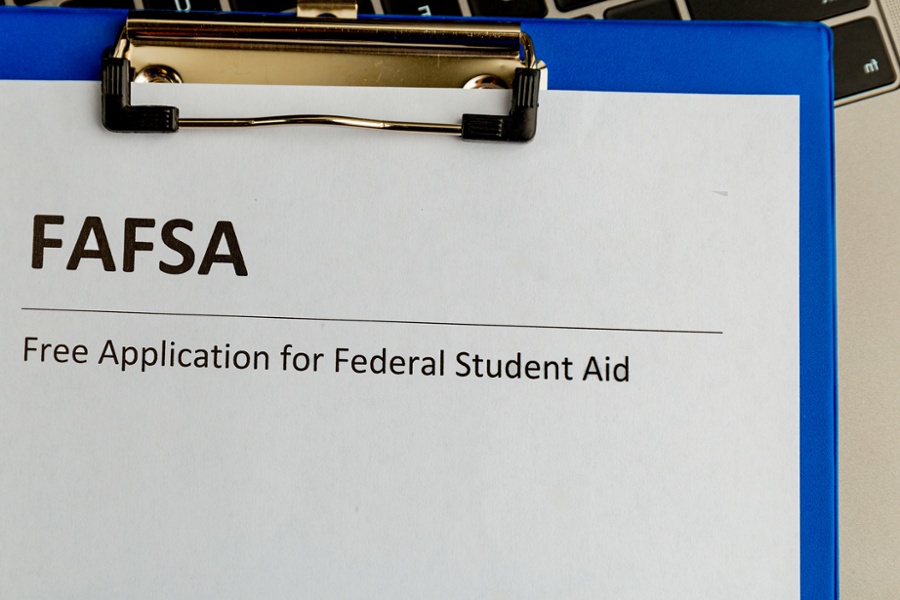 Finding ways to fund graduate school can seem challenging. But it doesn't have to be!
We spoke to one graduate student who's pursuing a master's degree at Kent State University. Here's what she had to say about finding types of financial aid for graduate school.
Tell us a little bit about yourself: name, age and hometown?
My name is Daniela Munoz Perales, and I am 23 years old. I graduated from Miami University (Ohio) in 2019 with a bachelor's in psychology and a minor in sociology. Currently, I'm in my third and final year of the School Psychology program at Kent State University.
I am originally from Mexico and moved to my current hometown, Aurora, Ohio, in 2008.
What graduate program are you pursuing at Kent State? When do you anticipate graduating?
I am in the School Psychology program at Kent State University. The program consists of two years of classes along with a practicum experience, and it ends with the completion of an internship in the third year. I anticipate to graduate in May 2022 with a master's and an education specialist degree.
Did you take advantage of the FAFSA?
I was sure to apply for FAFSA each school year as it provides financial help to students. My advice would be to apply early.
When considering how to finance graduate school, did you take advantage of any scholarships, grants or loans?
I certainly took advantage of as many opportunities as I could. Ever since I began my academic career in higher education, I have done research into national, state and local scholarships that I qualified for. In addition, I educated myself on grants and loans available to me. Specifically at Kent, I made sure to look through the College of Education, Health and Human Services' scholarship portal and familiarize myself with the available scholarships, applying for as many as I could.
How is Kent State preparing you to achieve your long-term career goals?
Kent State has allowed me to develop my professional and personal skills immensely. Through my assistantship, I have been able to connect with many individuals who work at the University. Furthermore, the practicum experiences I was offered through the program have provided me with real-life practices that enabled me to not only understand the responsibilities of a School Psychologist but to also expand my network and learn from professionals.
Did you participate in a paid graduate assistantship or internship?
I will be participating in a paid graduate internship this year. I will be working as a School Psychology Intern at Greenbriar Middle School in Parma, OH. I am very much looking forward to this experience and all the knowledge I will gain.
Lastly, what is your best piece of advice for financing graduate school at Kent State?
My best piece of advice is to apply, apply, apply. Find every opportunity that allows you to obtain financial help to aid in your professional development and take advantage of it. Kent State along with outside agencies provide a lot of possibilities to allow students to further their education without adding a financial burden.
Do Your Research: Different Types of Financial Aid for Graduate School
When it comes to receiving financial aid, there are two main categories: gift aid and self-help aid. Many students end up utilizing multiple types of aid, making it important to research all the opportunities that might be available to you.
Examples of Gift Aid:
Scholarships are given based on academic or other achievement to support a student's education. Some scholarships are awarded by the institution you are attending, while others can come from private sources.
Begin your scholarship search by talking to friends, family, academic advisors, admissions counselors and financial aid advisors. Investigate all prospective aid resources or sponsors of aid as soon as you identify them. Looking for free money for college is going to take as much time, energy and effort as a part-time job, but it's worth it.
Pro-Tip: We've created a Scholarship Search Checklist to help guide you along the way!
Grants are financial awards that do not need to be repaid. Grants are generally given to support a particular project or purpose. Kent State University participates in these grant programs outlined on our website.
Examples of Self-Help Aid:
Loans are allotments of money that must be paid back with interest. Due to the COVID-19 pandemic, interest on federal student loans is currently paused. Low interest rates and other measures to help borrowers are likely to continue, making now the most affordable time to take out student loans.
Loans can also come from nonfederal, or private, sources. Private loans provide students with additional funding for unmet college expenses that federally subsidized loans can't cover. Remember to note that private student loans are not federally subsidized and will not adhere to federal interest rates.
Work study is a way to earn an income while working for the university. Graduate students who are not offered a graduate assistantship may inquire with One Stop regarding eligibility for Federal Work Study (FWS). Graduate students can look for student employment for either FWS-funded or university-funded positions by utilizing Handshake where we post available positions.
Looking for ways to fund graduate school? Connect with Kent State University!
At Kent State, we want to make attending graduate school enriching and affordable. Our flexible programs and financing options take the stress out of planning for school and allow you to focus on achieving your goals.
Connect with us today and let us help you get the most out of your graduate school experience.
Don't forget! For the rest of the academic year, Kent State's Office of Graduate Admissions is offering free applications for domestic students planning to start school in spring, summer or fall 2021. If you submit your application during this time, the application fee will be automatically waived.
Finding funding for graduate school doesn't have to be difficult. Explore Kent State's Financial Aid resource to learn more about the types of financial aid available to you!