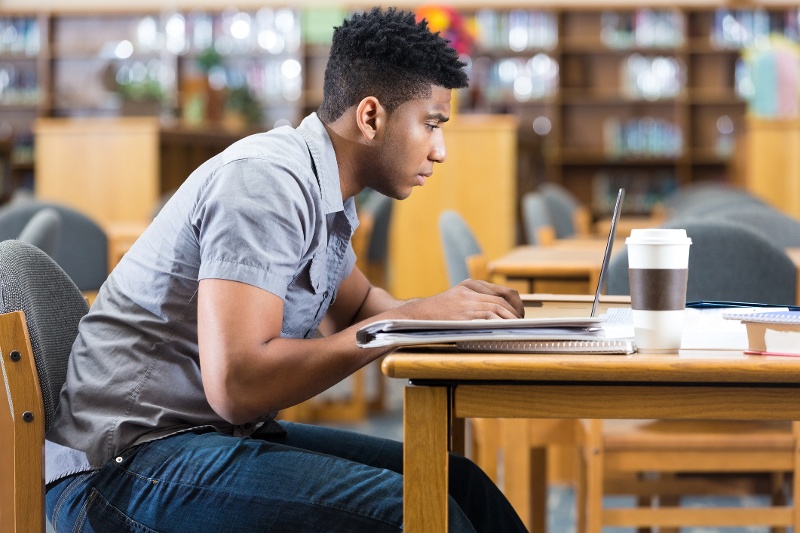 As a college student, you have a lot on your plate. You are navigating classes, homework, projects, a social life, personal responsibilities and so much more.
When do you have time to prepare for graduate school? And what does mentally preparing for graduate school even look like?

We're here to outline some practical, helpful advice related to preparing undergraduate students for graduate school. Hopefully, these will inspire you to start prepping for your future now — instead of waiting!
Secure an internship while enrolled in college.
There are so many important reasons to complete an internship during college. Obtaining an internship shows proactivity, drive and professional maturity. Graduate schools want to see ambitious students who can "make it" in a real-world, professional environment.
In addition, an internship can help you decide whether the field you've chosen is a good fit for you. And at times, an internship can develop into a full-time job opportunity, making it a win-win experience for both your professional and academic future.
Be proactive; get involved in your school community.
As an undergraduate student, there are so many ways to get involved. You can join a student club or sports team, take on a leadership role at a professional organization, volunteer at the office of your chosen major or simply attend all of the extracurricular opportunities your coursework allows for.
Graduate school admissions officers want to see engaged, well-rounded applicants who have given back to their school community in some way. Engaging with your academic community will also prepare you to collaborate with and learn from diverse groups of people who are also seeking professional and personal advancement through education.
Foster healthy relationships with faculty.
When preparing for graduate school, you'll need to include a variety of materials in your application — such as letters of recommendation.
By cultivating tight-knit, professional relationships with faculty, you will make it easy to ask for excellent letters of recommendation as well as advice regarding how to best navigate the graduate school application process.
Take additional, advanced coursework.
Graduate-level coursework is rigorous and challenging. So, if you're seriously considering graduate school once you graduate from college, you should speak with your academic advisor about enrolling in a graduate-level course before you complete your bachelor's, if possible.
According to U.S. News & World Report, college students who are strongly considering graduate school should: "Focus on the harder courses, and be sure not to skip the junior seminar, senior colloquium, senior thesis, or any course specially tailored to the needs of majors. This is where you can distinguish yourself as a serious player in the field ... And that's just what you need to do to position yourself for grad school."
In short, by taking a graduate course, you will gain an inside look at more advanced coursework and take the first step in preparing yourself to transition fromundergraduate-level coursework to graduate-level coursework.
Prepare for any necessary entrance exam.
Not all programs require the GRE or GMAT, but if your program does, you will want to plan ahead to make sure your scores arrive in time. Plan to take your exam well before the application deadline. Some programs will accept scores from the MCAT or LSAT tests as a substitute for the GRE or GMAT, so check with your program of interest before signing up.
Give yourself ample time to apply.
By the time you enter your senior year, you should have a plan for transitioning to graduate school and start gathering the documents that are required for admissions to the program of your choice. Keep in mind that you'll need to allow for enough time to prepare a personal statement and gather letters of recommendation, transcripts and other application requirements.
Connect with a current graduate student.
Take advantage of your connections. If you don't know any current graduate students at your institution, check with your academic advisor or professors to see if they can connect you with a graduate student who might be willing to mentor you.
A current graduate student should be able to provide advice regarding how to best transition into a more academically rigorous program, how to get involved with your community and more!
[Student Highlight] A Quick Tip from a Kent State Doctoral Candidate:
Victoria Reynolds, a current doctoral candidate in Kent State University's Sociology program, explains why she chose Kent State for graduate school and explores how she transitioned from undergrad to graduate school — read her full story here!
"Understand that transitioning from undergraduate to graduate school requires some major mental changes. It's a heightened way of critical thinking and a lot more is required of you. Make sure to celebrate every success along the way — no matter how big or small.
Whether getting your M.A. or Ph.D., graduate school is a long journey. Trust in your dreams, keep pushing and lean on your support systems. Before you know it, you will see the light at the end of the tunnel!"
—Victoria Reynolds, Sociology PhD, Kent State University
Preparing for graduate school at Kent State:
There's no time like the present to plan your next academic and professional journey. By obtaining a graduate degree in your field of choice, you will enter the workforce with the competitive edge needed to stand out among the competition, quickly advance, and ultimately secure your dream career.
As you consider choosing Kent State for graduate school, we invite you to request more information or apply today!

Considering graduate school? Download our new guide:
Why You Should Choose Graduate School at Kent State University!