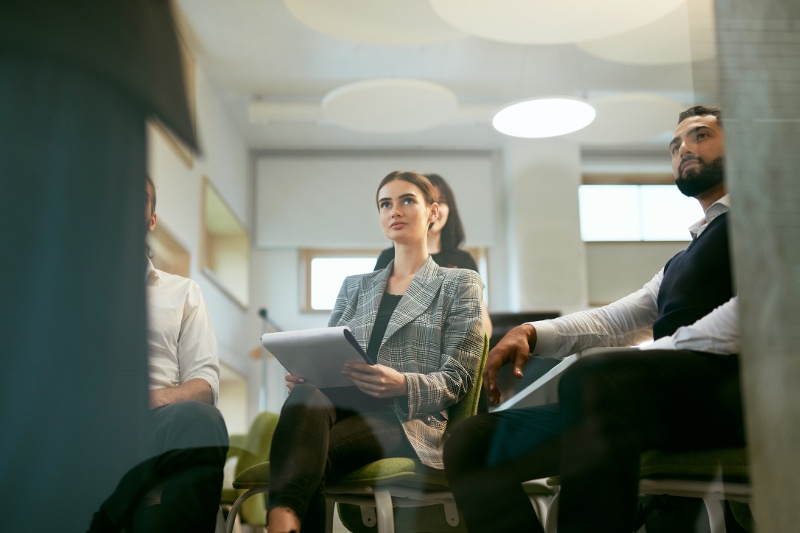 If you've ever considered returning to school for a graduate degree, chances are you have asked yourself a lot of questions along the way. Will I be able to finish? What if it has been too long since undergrad? Where would I attend?
Some of the most commonly asked questions are those surrounding the value of the graduate degree, in other words — is a master's degree worth it? While the answer to that question will be different for every person and every circumstance, there are several questions everyone can ask themselves to help determine whether or not a graduate degree is the right move.
Read on to learn about several questions we think you should consider!
1. What is my motivation choosing graduate school?
Everyone has different reasons for going back to grad school.
Some want to earn higher salaries, some want the added career mobility that is available to them with an advanced degree and some want to add to or enhance their skill sets.
Often there isn't just one compelling reason, but a combination of reasons that nudges people to return to school. Regardless, the important thing is that you reflect on and identify why you are choosing to go back to school. This "why'" will carry you through many challenging courses and late nights studying and will be the force that pushes you when you want to give up.
2. Do I have a clear idea of what I would like to study?
Many individuals enter undergrad with a general idea of what they would like to study, but may be undecided on the actual degree they will pursue. Because graduate school is more focused on one particular subject or discipline, it's important that you are clear on what degree you would like to earn prior to enrolling.
It's not impossible to change programs once you begin grad school, but you would likely need to start anew as most credits will not transfer from your previous degree.
3. Will a master's degree help me move up in my career?
A graduate degree will not only set you apart from other job seekers — it will also give you more job security and allow you to command a higher salary upon hire. By obtaining a graduate degree, you will differentiate yourself from the many other professionals who hold only a bachelor's degree — making you more competitive when it matters.
There's no doubt, a graduate degree will not only set you apart from your colleagues as a dedicated and experienced professional who is qualified for a promotion, but also help you earn higher salaries in the long run and give you more job security.
The numbers are clear:
Those who hold a master's degree earn an average of $17,000 more a year than those who only hold a bachelor's degree.
As of 2019, professionals with an advanced degree only experienced 2 percent unemployment, in addition to experiencing greater job security and mobility.
4. Do I want to change careers?
The thought of changing careers can be overwhelming:
How will I break into a new industry?
Will I have the skills and knowledge necessary to thrive in a new field?
How will I prove to a future employer that I am qualified for a job in a new career?
All these questions are valid. After all, while soft skills are easily transferable from one career to the next, hard skills outside of your discipline can be difficult to acquire and convey. This is where a graduate degree can help — by providing you with the expertise and training you need to land a job in a new profession.
5. Do I have the time to devote to this degree?
Earning a graduate degree does require a significant investment of time. Most programs take one to three years to complete, depending on whether you choose to earn your degree part- or full-time. Consider your current obligations:
Do you have a family?
Are you working?
How will you work your education around other commitments?
It is definitely possible to earn your degree while working or raising a family, but it will require planning and time management — and you should approach it with a solid plan.
6. What about financing graduate school?
Much like an investment of your time, earning a graduate degree will likely require a financial investment as well. If you are fortunate enough to have an employer who is willing to pay for you to earn your degree, this greatly reduces any stress that comes with the cost of grad school. If you are going to pay for your own degree — don't worry! There are lots of resources available to help you navigate financing your degree.
The best advice is to start early. Look into scholarships, grants, graduate assistantships and loans. Apply for as many scholarships, grants and loans as you can, and take the time to research and compare the different types of loans you can take out.
7. Am I mentally prepared to embrace the added workload of graduate school?
Graduate school will likely be more challenging and rigorous than your experience earning your bachelor's degree. A graduate program is nuanced and fast-paced, focusing exclusively on one area of study rather than a broad range of topics. The good news is that your work will focus on an area in which you are interested. It also means that you will need to be mentally prepared to embrace the added workload that comes with these more in-depth and challenging courses.
Although graduate school does offer more rigor than an undergraduate program, you may find the resiliency you have acquired through those years, coupled with your recent work experience, a great recipe for success. You will probably discover you are a more efficient and effective learner than you were when you were new to college life. The workload may be demanding, but you are also better equipped to handle it.
Explore how a master's degree helps to advance your career — connect with us today!
These are just a handful of the many things you should consider when deciding to return to school for a graduate degree.
If you are looking for additional information on choosing a graduate program or how to begin the grad school application process, download and explore our comprehensive guide — KSU's Graduate School Decision and Admissions Guide.
If you have any questions about transforming your future with a graduate degree from Kent State University, we encourage you to request more information or start your online application today!
Are you ready to kickstart your academic journey?
Explore our digital resource: Everything You Need to Know About Crafting a Remarkable Graduate School Application!