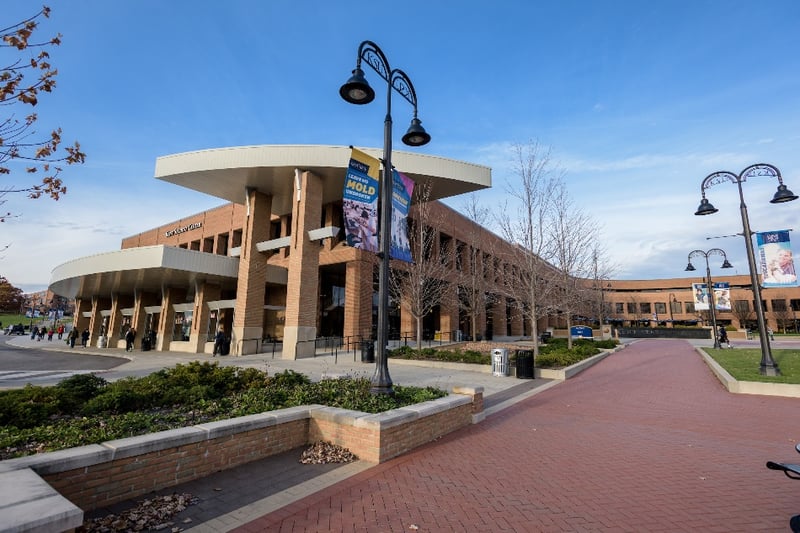 You have so many options when it comes to where you choose to obtain a graduate degree, and we know that sometimes, it can be helpful to hear from someone who asked the hard questions and who made an informed decision about graduate-level study.
For this reason, we spoke with Victoria Reynolds, a 2014 graduate of Kent State University who is now enrolled in a PhD program at Kent State, and we wanted to share her experiences with you!
So, let's get right to it — here's what Victoria had to say about choosing Kent State for undergrad AND grad school.
Tell us a little bit about yourself: name, age and hometown?
My name is Victoria Reynolds. I am 28 years old and from Parma, Ohio — just about 50 minutes from Kent. I am in the Sociology PhD program. I am currently a doctoral candidate and anticipating to graduate in Summer of 2021.
When did you graduate with your bachelor's? What was your major?
I graduated with my bachelor's degree in May of 2014. I double majored in Sociology and Biology. I did this with the intention of going into genetic counseling.
I received genetic counseling for a genetic mutation called Lynch Syndrome that runs in my family. After personally working with a genetic counselor, I was so interested in the work they do in helping people navigate familial predispositions to cancers that I couldn't help but want to become a counselor myself. However, after interning in this department at a nearby hospital, I realized that my goals changed, and I was more interested in researching psycho-oncology from a sociological standpoint — I really wanted to know why certain people experienced cancer differently than others.
Although my specific career path changed, both my majors still really helped me in defining my research interests in graduate school.
Why did you choose to stay at Kent State for grad school instead of moving on to another institution?
My freshman year in undergrad, I applied to be a research assistant in the Group Processes Lab in the Sociology Department. I was fortunate enough to work for Dr. Carla Goar on running experiments and transcribing focus groups. It was a priceless opportunity to experience the research process so early on in undergrad.
After this research concluded, I worked in the main office of the Sociology Department as a student worker. This gave me the opportunity to establish connections with faculty and graduate students in the department.
I made the decision to apply to Kent State's graduate program while I was taking the Sociology of Health and Health Care course with Dr. Tim Gallagher. I turned in an assignment that I was very proud of, and Dr. Gallagher commented that I should consider applying to Kent's Sociology PhD program. I think the very next day I started prepping for the application!
I had my heart set on getting into this program and working with Dr. Gallagher and the other awesome faculty members in the department.
What is your favorite thing about the program?
The people! Since I've been interacting with folks in the Sociology Department since 2010, I've really come to know most of the individuals in the department.
I also really like that students take the same classes as their fellow cohort members in the first year of grad school. This helped me create friendships that are just as strong today as they were six years ago.
Grad school is tough, but our program does a really good job at providing opportunities to find support and foster relationships. Two of my fellow cohort members met when we started grad school, and they married in 2018. And I was the maid of honor to boot!
Did you participate in a graduate assistantship or internship? If so, tell us about that experience.
Yes, I was fortunate enough to be offered research and teaching assistantship opportunities for the first five years in my program. During this time, I assisted faculty with research-related tasks and instructed courses in my areas of interest.
I also applied for a graduate assistantship within the Statistical Consulting Department, which is housed within the University Libraries. I am still currently in this position while I continue working on my dissertation. All of these assistantships have helped me in various ways — each of them being a learning experience.
What do you hope to accomplish post-graduation?
My career goal is to find an applied position that deals with the entire research process, specifically at an institution doing research on people with cancer or other chronic illnesses. Helping to improve the lives of people with chronic illnesses, like cancer, is one of my goals post-graduation.
What is your best advice for financing graduate school at Kent State?
BUDGETING! Living on a graduate student stipend is, at times, a struggle; however, with budgeting you can make a little go a long way. Make sure to figure out the necessities and understand your own spending habits to estimate where your money will go.
Additionally, Kent State has a lot of financial resources to help you. For example, the Graduate Student Senate offers awards for research and travel-related costs. These have helped me tremendously in the time I've been in graduate school. GSS has also just created a Book award to help offset the toll of purchasing books for classes or research.
What advice you would give to an undergraduate student considering Kent State for grad school?
Understand that transitioning from undergraduate to graduate school requires some major mental changes. It's a heightened way of critical thinking and a lot more is required of you. Make sure to celebrate every success along the way — no matter how big or small.
Whether getting your M.A. or Ph.D., graduate school is a long journey. Trust in your dreams, keep pushing and lean on your support systems. Before you know it, you will see the light at the end of the tunnel!
Why YOU should choose graduate school at Kent State:
While you have many options for continuing your education, it's important that you choose the right graduate school. We have ample reason to believe that Kent State University could be the avenue through which you achieve your goals and transform your career because we strive to be a community of change agents whose collective commitment to learning sparks epic thinking, meaningful voice and invaluable outcomes to better our society.
With 24 master's degrees in 112 majors, 5 doctoral degrees in 48 majors, 1 post-master's degree in 6 majors, as well as 37 certificates, there are academic opportunities for everyone.
As you consider choosing Kent State for graduate school, we invite you to request more information or apply today!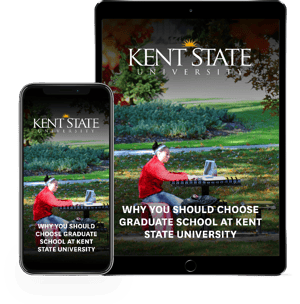 Considering graduate school? Download our new guide: Why You Should Choose Graduate School at Kent State University!