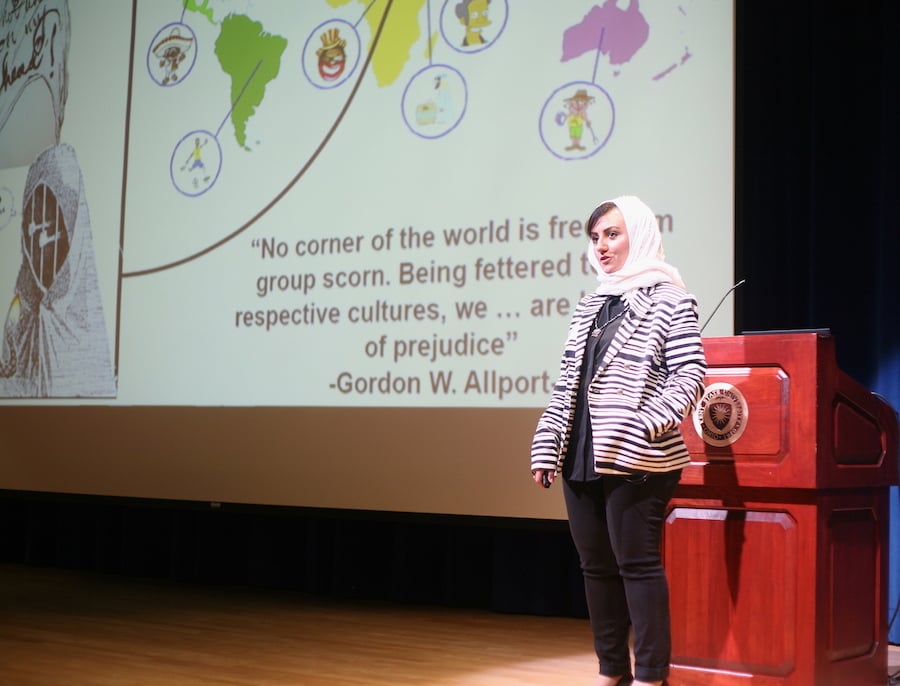 On October 25, 2019, the Division of Graduate Studies at Kent State University hosted its fifth annual Three Minute Thesis (3MT®) Finals. This rigorous competition, held at universities and institutions worldwide, offers graduate students the opportunity to synthesize and present their research before an audience and panel of judges. In this competition, presenters are limited to a total of three minutes and one PowerPoint slide to effectively communicate their research.
One crucial skill that all graduate students need to develop is the ability to explain their research and findings in a concise manner and with language that appeals to a non-specialist audience. In addition to providing an opportunity for graduate students to accomplish these objectives, the 3MT competition also assists students in improving and refining their academic, presentation and research communication skills.
Read on to hear from the 2019 first place winner, Nisreen Yamany, and one of the 2019 People's Choice Award winners, Nashrah Ahmad.
Nisreen Yamany, First-Place Winner, Doctoral Candidate - English Literature
What led you to pursue your degree at KSU?

I applied to several universities and was accepted by three. After much consideration and research, I selected KSU. It has a good reputation and Kent is a safe diverse community that is well suited for me and my kids.
Please summarize your research for us.

My research focuses on stereotypes surrounding Muslim women and how they can be redressed and challenged through literary works by using various cognitive techniques including extended, vicarious, imagined contact, empathy-evoking approaches and providing counter stereotypical exemplars. The literary works I'm using are: Mohaja Khaf's The Girl in the Tangerine Scarf and Randa Abdel-Fattah's Does My Head Look Big in This?
How did you prepare to present your research?

First, I summarized my research into one page, taking into account the different criteria for the 3MT competition. I made sure it provided background for my research and was comprehensive and engaging. I intentionally included a few questions that can be used to engage the audience and trigger their interest in the presentation.
I worked on my slide and tried to make it reflective of my research as a whole. I tried to make the slide engaging and interesting but not too busy or overwhelming. Finally, I practiced reading my summary out loud and revised it so that it wouldn't exceed two minutes and 50 seconds. I rephrased and shortened some parts and I also checked my pace, as I didn't want to rush through it.
What advice would you give to someone preparing to present at 3MT?

I would give them the following pieces of advice:
Check the rules and judging criteria and make sure you follow them.

Summarize your research and practice it to make sure you never exceed the three-minute limit.

It is better if you aim for two minutes, 50 seconds so as to give yourself time if you need to cough or pause.

Aim to make your slide and presentation clear and understandable to the audience in general.

Practice, practice, practice! Until you encode it into your subconscious mind and you can remember it automatically without much effort.

Smile, be confident and remember that 3MT is an exciting experience and it won't negatively affect you in any way, whether you win or not.



Do you feel presenting at 3MT has benefited you in your degree and/or future career?
Yes! Definitely. In many ways actually. It made me more confident. Now I realize I can stand and present my research, even on a stage such as the Kiva, which is intimidating for me. It also helped me understand the crux of my research and be able to explain it in fewer words.
What was your favorite part about the 3MT competition? What was most challenging?
I enjoyed working on my slide and trying to make it comprehensive, engaging and yet not too busy. I enjoyed meeting grad students from other disciplines and getting to know their research. I also appreciated how everyone was supportive and encouraging. Yes, it's a competition and participants are expected to be competitive. Yet, most participants were supportive and offered words of encouragement to other presenters, including myself!
The most challenging things were the time restriction and stage fright. It is difficult to present your research in three minutes and remain aware of all the judging criteria. Also, I used to have such stage fright that I would never volunteer to be on stage. I was worried that my stress and tension might make me stutter or forget what I was supposed to say and that's why I tried my best to memorize my presentation and practice endlessly.
Nashrah Ahmad, People's Choice Award Winner, Doctoral Candidate - Biomedical Sciences (Cellular and Molecular)
What led you to pursue your degree at KSU?

I was interested in working with Dr. Tariq Haqqi in the field of osteoarthritis, which led me to choose KSU for my graduate studies. I was really inspired by the translational aspect of Dr. Haqqi's research in the field of cartilage biology and I wanted to be a part of his research team.
Please summarize your research for us.

Osteoarthritis is the most common form of joint disease in the world and is a leading cause of disability. Currently, there is no cure for this disease and the existing therapies only provide temporary relief from pain. There is a need to develop a therapeutic agent for the treatment of osteoarthritis. My research involves screening a number of small molecules for their beneficial effects in osteoarthritis. After screening a large number of compounds, I identified a drug called PRT. My future goal is to confirm the beneficial effects of PRT in a mouse model of osteoarthritis.
How did you prepare to present your research?

I watched the past presentations from previous winners and practiced my presentation with my friends. Feedback from my friends helped me a lot in organizing my talk.
What advice would you give to someone preparing to present at 3MT?
Try to find the gist of your research and then think of a way in which you can explain it to a layman or even your grandmother. It should be simple, yet engaging, with a particular emphasis on the impact of your research on an average person's life.
Do you feel presenting at 3MT has benefited you in your degree and/or future career?

Undoubtedly! 3MT was one of my best experiences in graduate school at Kent State University. It made me think about my research in a very different light. As biological researchers, we are well trained in the technical aspects of our research, but this competition gave me an opportunity to think about the essence of my research and its broad impact. Presenting at 3MT has prepared me to present my work on different platforms in the future.
What was your favorite part about the 3MT competition? What was most challenging?

My favorite part was communicating my research to the world. The most challenging part was summarizing my whole research in just three minutes.
---
---
Graduate school is the perfect place to explore your research interests. If you're thinking about earning an advanced degree, explore our guide — KSU's Graduate School Decision and Admissions Guide.