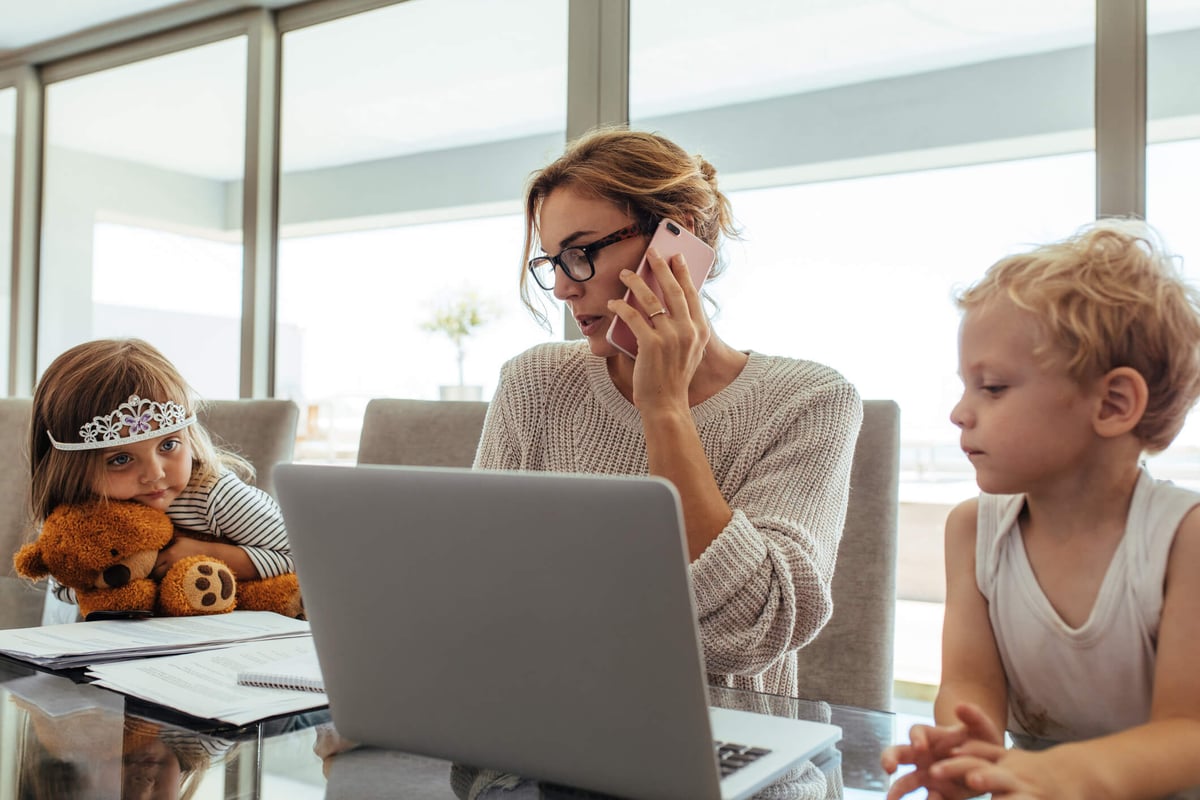 As part of our effort to understand and support the needs of mothers who chose to return to graduate school for a specialized degree, we talked with Kent State's very own, Lana Whitehead, Assistant Dean of Graduate Studies and Director of Graduate Admissions.
Lana, a mother of 6 children, returned to school to pursue her master's degree after 16 years as a stay-at-home mom. Here's what Lana shared with us about her experience.
What initially got you interested in the idea of going back to school?
Once my children were all in school and becoming more independent, I decided it was time to go back to work full-time. I applied for several positions that I felt were a good match for my experience and skill set. Unfortunately, I was never called for an interview. Eventually, I spoke with one of the employers who candidly told me that they received over 200 applications for the position and more than 180 candidates had a master's degree. The employer didn't even consider candidates without their master's degree.
After that conversation, I knew I needed to go back to grad school and earn my master's degree if I was ever going to get a chance to break into my chosen profession.
Did you encounter any hesitations, obstacles or fears as you thought about pursuing a graduate degree?
I had been a stay-at-home mom for almost sixteen years before I started my grad school program. My first concern was how my absence was going to impact the daily functioning of our household.
With six children on three different school schedules and involvement in after school activities and sports, I was really concerned that we weren't going to be able juggle everyone's schedules without me at the command post. I had been the primary homework helper, chauffeur, cook, cleaner, mediator, and cheerleader all those years. I wondered if it would all fall apart if I wasn't available to my family 24/7.
I remembered my own mother going to college when I was in elementary school and I took inspiration from her. I wanted to be that same example for my own kids to let them know how important an education is. I decided it would be okay for a few things to slip through the cracks at home if I was impressing upon them that my school work was a priority.
How did you hear about your graduate program and what specific features attracted you to this program when you were looking at graduate schools?
I heard about my graduate program from someone at our church. She worked at the university and recommended the program to me.
The university was close to home, and I was fortunate enough to obtain a graduate assistantship that helped alleviate the financial burden.
Now that you're through the program, what did you find most enjoyable about your graduate work? What did you find most difficult?
After being a stay-at-home mom for over 16 years, I relished the intellectual stimulation and camaraderie with my fellow grad students. My grad assistantship gave me practical work experience in my field that I was able to use to bolster my resume.
I was surprised by how much I loved doing research. As a working mom, I didn't really have the time or energy to fully devote myself to the research though. I had to pick and choose where to spend my limited resources. If I had a bit more free time, I would have published more of my work.
Tell me about some of the ways you balanced your work/home/family responsibilities while studying. What advice would you give to other women?
Surviving graduate school while working and caring for a family is not for the faint of heart. If you are committed to completing your degree, you will have to make some tough choices about how you spend your time.
I kept my books, notes, and laptop with me almost everywhere I went. If I was sitting in the parking lot waiting for one of the kids to get out of practice, I would highlight my reading assignment. If I had a half hour before the game started, I would start writing my paper. Half time of the game meant 15 minutes with my note cards. I never missed one of the kid's games, concerts or important events, but I took advantage of every minute of waiting time I had in my day and reclaimed it as productive time for me. I became a master of efficiency and time management as a matter of survival.
Moms are good at making sacrifices for their families, but sometimes we allow ourselves to be overworked because we try to do it all. Solicit others for help with the daily chores. Be efficient in order to be effective. Take a break when you need it!
What kind of relationship did you have with your program and professors?
The faculty in my program were fabulous. It's been years since I graduated, but I still keep in touch with a few of my favorite professors. I can't say that I was given any "breaks" because I had a family though. I was still expected to attend class and do all the work.
Did you take advantage of the community around your school or program by joining clubs or organizations?
No. Honestly, I did not have time for the "extras".
What achievement, project or experience are you most proud of from your years in graduate school?
I'm glad I found the scholar that lived within me. I completed my undergraduate degree almost out of obligation and expectation. My graduate degree was for me, and no one else.
How has your graduate degree helped you build a life you enjoy?
Without my graduate degree, I would not have been employable in my field and certainly would not have had the opportunities for advancement that I have experienced since obtaining my degree. Going back to graduate school opened up a lot of doors that would have otherwise remained closed.
Any advice or wisdom you would pass along to a prospective student?
The time goes by so quickly. Although it is a challenge to balance work, school and family, the sacrifices are worth it in the end. Your family will gain a new respect for you in the process and will realize there is more to you than just being a "mom".
If you're inspired by Lana's story and are interested in hearing more from her and other parents about taking on graduate school while balancing work and family life, check out our digital resource — Everything Moms Need to Know About Going to Grad School.