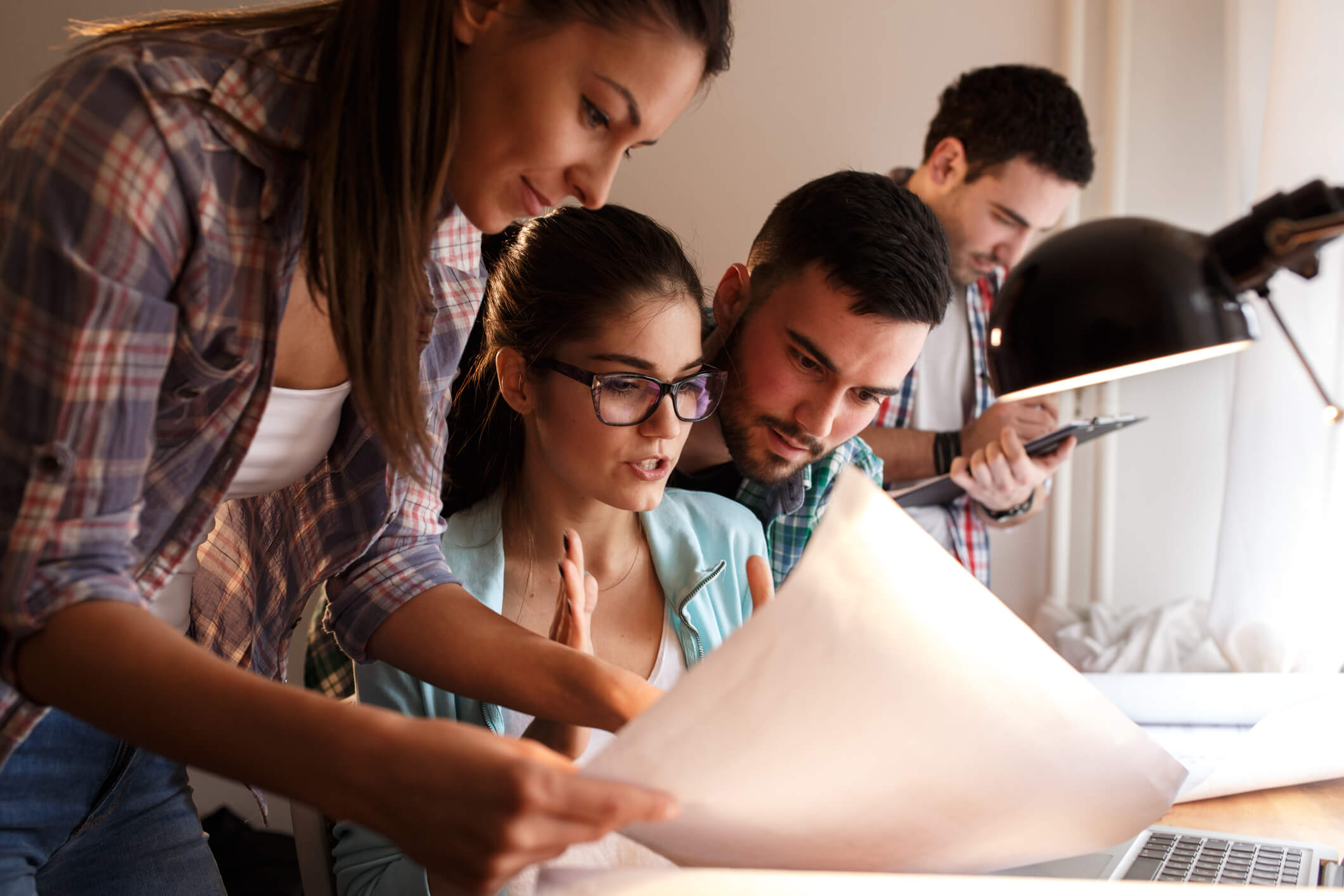 User Experience Design, otherwise known as UX Design, is an emerging field in the design industry, and while UX Design adopts complex processes, its main objective is simple: to enhance user satisfaction by improving accessibility and interaction with a product.
If you're considering advancing your design career or if you're interested in switching careers into the UX Design field, we are here to educate you by answering these questions:
What does it

actually

mean to be a UX Designer?

What is the

actual

value of a master's degree?

What should you

definitely

look for in a master's program before applying?
Let's start at the beginning. What is UX Design?
UX Design is an interdisciplinary field that emphasizes design thinking to uncover solutions to complex problems.
But in order to understand UX Design, you need to first understand the basics of design thinking. Design thinking is a human-centered research methodology that begins by understanding the mindset and the desired solutions of the user — design thinking is "not problem focused, it's solution focused and action oriented towards creating a preferred future." After the user's problem has been defined and analyzed, design thinking goes through several cycles of ideation, prototyping, and testing before the final phase of implementation.
"Design thinking can be described as a discipline that uses the designer's sensibility and methods to match people's needs with what is technologically feasible and what a viable business strategy can convert into customer value and market opportunity." –Tim Brown CEO, IDEO
While there are several design professions that utilize the design thinking process, UX Design is unique in that it expands its focus to the full spectrum of branding, design, usability, and function.
Did you know that UX Design is different from User Interface (UI Design)? Here's how:
UX Design and UI Design are often interchanged and confused with one another. To be clear, UX/UI Designer and Medium writer, Belinda, explains that, "UX Design is a more analytical and technical field while UI Design is more similar to graphic design."
The goal of UX Design is to enhance usability and inspire positive interactions. Meanwhile, the goal of UI is to design a beautiful, clean interface. UX designers are concerned with creating a screen full of intuitive interactions for the user to interpret — things such as clickability, scroll, and icon animations. UX designers work with UI designers to achieve a clear vision, but UI designers work more with the client's goals for the aesthetics of the page — colors, drop shadows, typography, etc. When the two fields work together, they create an experience for the user that is both beautiful and intuitive.
It's strategic to consider getting an advanced degree in UX Design. Here's why:
The UX Design industry attracts and utilizes the skills of people from diverse academic backgrounds. Some of these myriad disciplines include:
Design

Psychology

Communication

English

Computer Science

History

Chemistry
History? Chemistry? English? Yes, we weren't kidding when we said that UX is widely interdisciplinary.
Take for example, Sammy de Joya: Sammy graduated with a B.S. in Biology and was working at a biotech company. After thinking about switching to a career in design, Sammy finally took the jump and enrolled in a UX Design program and now works in design implementing both UX and UI methodologies.
The Nielsen Norman group conducted a study to better understand what it takes to get a job in UX. The study not only confirmed the inconsistency of quick job placement with only an undergraduate degree but also that 52 percent of UX Designers go on to pursue a master's degree within the field. Many see the industry as an evolving and complex field, thus more and more UX Designers are seeing the value in pursuing more education and training within their field in an effort to augment their skillset.
Not all UX Design master's programs are created equal. Here's what to look for:
Because the field is so new and diverse, it can be hard to pinpoint the best curricula and opportunities offered by various universities. The application process for any advanced program is already stressful enough, so here are a few things to look for prior to getting started:
A Well-Rounded Curriculum:

While it may help to know computer coding, and it is certainly beneficial to know various design software, it is more important for a UX Designer to develop strong analytical skills and understand the various narrative processes.

Before applying to a particular program, take a close look at the course and program objectives and decide whether or not the program meets these objectives, such as: research, data mapping, and storytelling.
The Teaching Methodology of the Program:

Be sure to find a program that emphasizes hands-on, practical experience. Look for a program that practices real-life scenarios (and remember, when exploring these scenarios, UX is all about putting the user first).
Online Options and Flexibility:

It's probably safe to assume that most working professionals don't want to uproot their lives and move to pursue their master's. Maybe your scenario is different, but either way — flexibility never hurt anyone. Having the option of an online program allows you to consider various internships and work experience on top of your school schedule.
Available School Resources:

Find a school that values not only your education but one that values your future career just as much as you do. With such a wide spectrum of possibilities within UX Design, it helps if you participate in a program that outlines clear career options, resources, and guidance. Pay attention to the kind of events and networking opportunities the school offers, and consider reaching out to current students and alum for some first-hand perspective.

Why is Kent State's M.S in User Experience Design a great option to explore?
Kent State's curriculum adheres to the LUMEN model, which stands for Learn, Understand, Imagine, Evaluate, and Inform — this is very similar to the design thinking process, which follows: Empathize, Define, Ideate, Prototype, Test, and Implement.
The fact that the LUMEN model is so similar to the design thinking process affirms its value in teaching real-life skills. Throughout the program, students at Kent State gather data/information about users, clients, the organizational culture, common tasks, and work environments, and after sufficient data/information is gathered, they seek to understand the context in which the project will be undertaken in order to provide the most satisfactory interaction with the user.
Closing Thoughts: A Master's Degree from Kent State Can Help Advance Your Career As a Designer.
Human-centered design is an asset within every industry. Now — more than ever — businesses are searching for smart creatives who understand the value of design thinking and have worked to develop a portfolio that shows off their design talent. A master's degree is just the first step in demonstrating a designer's willingness to drive forward with innovation in an evolving and emerging design field.
If you're interested in learning more about your future in UX, check out Kent State's various career resources and program information.
Kent State is here to help provide you with the latest insights, news, trends, and resources needed to help you make an informed decision about graduate school. We invite you stay up-to-date by subscribing to our new weekly blog — Flash Forward.