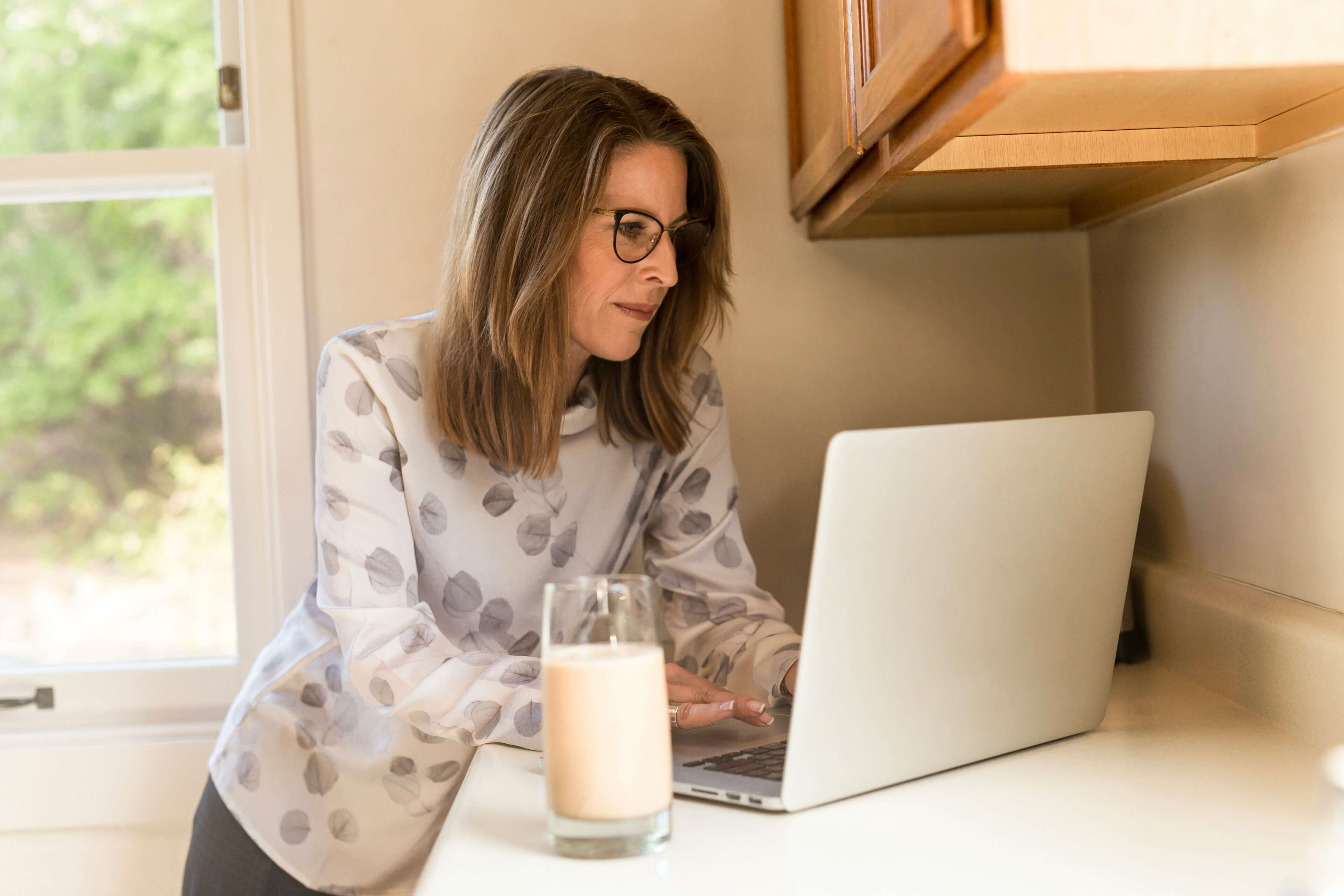 Motherhood is filled with joys and challenges. For moms working towards a graduate degree, pursuing their dreams can introduce a whole new set of challenges as well as unexpected joys for those who are open to opportunities.
Megan Odell-Scott is a full-time mom currently earning her Ph.D. in political science at Kent State University. She discussed how she balances all the responsibilities of motherhood with coursework and teaching.
Keep reading to find out how she stays motivated, the unexpected joy she has found through the program and what advice she has for other moms interested in juggling a Ph.D. and motherhood.
Where and what did you study during your years in graduate school? Why were you interested in going back to school?
Kent is my hometown and my community foundation. I did my undergraduate here at Kent State, then went to John Carroll University for my master's, and I am now back at Kent State pursuing my Ph.D. in political science. I thrive on scholarship and critical inquiry, so continuing on the path to a doctorate was a natural next step for me.
What have you found most enjoyable and most challenging about your graduate work?
While balancing coursework, teaching and parenting presented its own challenges, what I found most difficult was the isolation that being a part-time student entailed. I teach online, and once I completed my coursework, I only went into the department to meet with my chairs every other week. I needed to find new ways to cultivate community, which led me to what ended up being a surprising joy during graduate school – service.
Since finishing coursework, I have completed two terms as a senator on the Graduate Student Senate (GSS). This work helped me interact with other graduate students and allowed me to serve on other committees. This service work has been a surprising joy as I meet new people, learn more about how the university operates and have the opportunity to help create a better graduate student experience for everyone.
Tell me about some of the ways you juggled a Ph.D. and motherhood. What advice would you give to other women?
Balancing a graduate degree and being a new mother has not been an easy transition.
After the birth of my daughter, I began pursuing my degree part time. Although the time dedicated to my degree was considered part-time by the university, my dedication and commitment remained full-time as I balanced full-time caregiving with my coursework, comprehensive exams, service commitments and teaching. I worked during naps, on weekends and once my child began attending kindergarten, during her school hours.
It hasn't been easy, but I knew this was what I wanted to do — and that helped me stay inspired and motivated.
Did you take advantage of the community around your program by joining clubs or organizations?
I have always thrived by developing and cultivating the community around me. The graduate students in my program are not only colleagues, but many of them are my friends. We have supported each other through the unique experience that is graduate school.
My work as a GSS senator has also helped me make friends across disciplines and allowed me to experience graduate school through a much wider perspective than just my department.
What achievement, project or experience are you most proud of from your years in graduate school?
I am most proud that after having my daughter at the end of my first year of coursework; I still persevered and am now ABD (all but dissertation) and working on my dissertation. I often debated if I could do it all, and yet, here I am.
I am also proud that I have helped further the conversation on campus surrounding graduate students who are parents. I am proud of the way I have advocated for a parental leave policy, childcare options and affordability so that graduate students after me will face fewer obstacles and find more support.
As more women pursue degrees, this support is vital to ensure that academia is more inclusive and diverse.
What are your career dreams or plans?
My career dreams are broad. I want to continue to live a life of scholarship where I critically dissect ideas and structures about power and gender. I hope to teach others about the power and necessity of their voice in the world.
Why do you think it's important to go back to graduate school even if it may be difficult?
When I was having a hard time balancing it all, I wondered if it would be easier to just leave my program. Yet I would often zoom out and ask myself, "what else would I do instead?" I am called to this work, and I know deep down that, despite the challenges and obstacles, this is where I want to be.
This is the life I want for myself. With this mindset, I was able to push through the difficulties because my work had purpose and meaning.
Is there anything else you'd like to add? Any advice or wisdom you would pass along to a prospective student?
My advice for other graduate students is to take it one step at a time. As Anna in Frozen 2 says, "Do the next right thing" (Can you tell I have a five-year-old?). We can get so easily bogged down by thinking too far ahead. Don't stress out about comprehensive exams or defending your prospectus when the next right thing to do is simply read the next article or write one more paragraph.
A degree is made in the little moments where we continually show up and do the work and so when it seems overwhelming, focus on the next right thing. When you approach the work this way, the big things just seem like a natural next step because you have done the little work necessary to succeed.
Thinking about juggling a Ph.D. and motherhood? Connect with us at Kent State!
If you're thinking about taking the next step and pursuing a graduate degree, you might be worried about balancing your time and responsibilities. As a mother, you are uniquely qualified to overcome difficult challenges.
If you'd like to learn more about tackling graduate school and making your dreams a reality, you can get started by downloading our guide — Everything Moms Need to Know About Going to Grad School.
At Kent State, we're dedicated to helping you find joy and success during and after graduate school. If you have specific questions about any of our programs, we invite you to request more information today.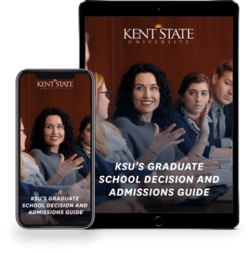 If you have questions about selecting a program or navigating the application process, download Kent State's Graduate School Decision and Admissions Guide.