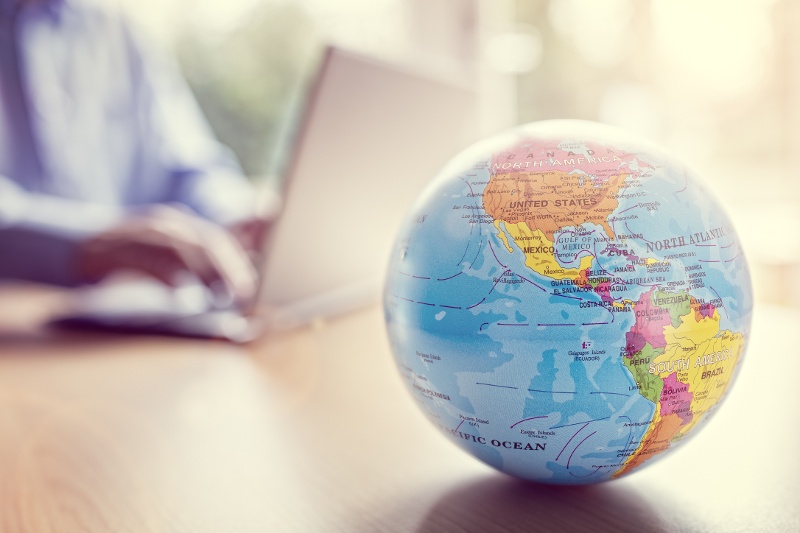 No matter your field of study — graduate school is both challenging and rewarding. The experiences you encounter while pursuing a graduate degree sharpen your competitive edge and help make you an indispensable asset to any team.
We had the opportunity to speak to a current Ph.D. candidate in one of Kent State's respected doctoral programs — and got his insight regarding how obtaining a terminal degree will prepare him to reach his professional goals. Here's what he had to say.
Tell us a little bit about yourself: name, hometown and educational background?
I am Paul J. Geis, and I use he/him/his pronouns. I am older than many of my peers because I worked full time in higher education for more than 15 years before I returned to pursue my Ph.D.
I am originally from Queens, New York, and that will always be home. I have also lived in Boston and in Greensboro, North Carolina, and I have spent time living and studying in France and in Belgium. Alliance, Ohio is now home.
I received my bachelor's in French in 1997 from Boston College. A few years later, I pursued my master's education part time while working. My M.A. is in higher education administration, also from BC.
What motivated you to obtain a graduate degree?
I worked for more than 15 years in advising and administering education abroad programs and international exchange partnerships at three different universities.
I loved my work and rose up through several professional levels. It became apparent to me in my last years of working full time in the field that a terminal degree would be necessary to move into the next, senior levels of administration.
Over that same period, I was collaborating more and more closely with faculty colleagues, and participating directly in the organization and delivery of educational programs for students. I was intrigued by the intellectual engagement I was having with students, and with my colleagues who were active scholars in their fields. This helped me to come to the realization that I wanted to pursue my Ph.D. in an interdisciplinary academic field that would not just qualify me for the higher-level administration positions.
I wanted to step out of administration and engage in deep, scholarly inquiry that would allow me to critically interrogate the professional field I was in, and that would also provide me with a solid foundation to be able to teach and mentor undergraduate and graduate students.
What graduate program are you pursuing at Kent State? And why?
I am a Ph.D. candidate in the Cultural Foundations program within the College of Education, Health and Human Services.
Cultural Foundations is an interdisciplinary field of study, and includes coursework in the foundational disciplines of philosophy, anthropology and sociology, as well as fields such as comparative and international education and multicultural education. This was exactly what I was looking for in a Ph.D. program. I wanted opportunities to dive deeply into core academic areas of inquiry, but also to be able to bridge back to practice with coursework that connected to my career goals in international education.
Most other programs do not afford this simultaneous breadth and depth of inquiry. In speaking with senior administrators in higher education about Kent State's program, they agreed that it would situate me well to assume a position of senior leadership within international education, and that it would also open doors for me to teach at the undergraduate and graduate level at many institutions. I liked that the nature of the program allowed for both of these, and other possibilities.
I was pretty set on the program, but my visit to Kent State solidified this interest. In addition to meeting the program faculty and discussing my research interests with them, I had the opportunity to attend the Midpoint Formative Review research presentations by two students in the program. I was impressed by their novel approaches to educational inquiry, and by the dynamic question and answer period with students, program faculty and the school director who also attended.
What is the most eye-opening thing about the Cultural Foundations program?
From my first day of classes, I have been thoroughly pleased to be in diverse classroom settings, where I was joined by student colleagues from the U.S. representing a diversity of racial backgrounds, as well as a significant number of international students from many different countries.
Through the Cultural Foundations program, I have interacted with classmates, office mates and other program colleagues from China, Czechia, Indonesia, Kyrgyzstan, Northern Cyprus, the Philippines, Rwanda, Saudi Arabia, South Korea, Switzerland, Thailand, Turkey, Uganda and Venezuela. The perspectives that these colleagues from the U.S. and from abroad bring into class discussions and group projects are invaluable.
This is of particular importance to me as my professional goals are in international education, but it also matters for anyone looking to work in most sectors of education and beyond.
Have you participated in a graduate assistantship or internship? If so, tell us about that experience.
In my first semesters at Kent State, I supported the Cultural Foundations program and another graduate program in administrative work. This included revising and maintaining website content; communicating with current and prospective students; and assisting faculty with marketing and promotion materials.
I was very pleased that my supervising faculty member included me in many aspects of the programs' operations. I was able to see aspects of academic administration that are usually only known to the faculty members involved. I know that in my future work in international programs leadership, I will work very closely with faculty and other senior academic administrators. Having hands-on experience and insights into issues, such as program accreditation requirements, is a great asset to me.
In subsequent semesters, I have been the instructor for Education in a Democratic Society, an undergraduate course that is required for all teacher education students. I was very interested in gaining some teaching experience during my doctoral program. I knew that I wanted the opportunity to teach alongside my future administrative responsibilities. However, the experience of teaching this course over the past several years has helped me realize how much I enjoy teaching, and that I would be interested in pursuing a faculty position.
My advisor and other program faculty have mentored me throughout this process, but have also allowed me to fully take responsibility for the sections I teach. I have had the opportunity to teach special sections of the course, including honors students, a linked section for students in the education living-learning community and another linked section of students who were all enrolled in the same first year experience seminar.
Additionally, I have been able to partake in various teaching and learning workshops and courses through Kent State, including some on online and remote instruction. All these experiences will be of interest for future employers.
Why do you think obtaining this degree will make you more marketable and successful in your field?
Terminal degrees are becoming increasingly necessary for senior-level positions in international education and other sectors of higher education. My degree in Cultural Foundations, including rigorous coursework and high-quality scholarly inquiry, are more than just a piece of paper needed for the job. It has equipped me with a breadth and depth of knowledge that will allow me to better perform my work, and to interact with a variety of stakeholders, including faculty, institutional leaders and donors.
Future employers will see that I am not simply an administrator with some scholarly experience, or just a scholar with some administrative experience. Rather, they will see that my Cultural Foundations degree readies me to be a true scholar-practitioner, a key actor in the future of my field.
Tell us about one faculty member who has greatly influenced you and enriched your time at Kent State.
Dr. Natasha Levinson is my advisor and was the first person I met from the Cultural Foundations program. Dr. Levinson's field is philosophy of education, and her teaching and mentorship have been key influences on my decision to pursue a philosophical approach to my dissertation and other research.
Something that I have appreciated about Dr. Levinson, and about other program faculty, is how she treats us as scholars from the start. I had much to learn in my doctoral studies, but Dr. Levinson made me feel like I was capable of engaging in this work from the first moments.
I have published two single-author papers through our regional philosophy of education society. Both papers initially emerged out of coursework with Dr. Levinson. She encouraged me to push ahead when the process was daunting. The second paper benefited from an initial presentation at our field's national conference through a special panel that Dr. Levinson convened with three doctoral students from the program.
Dr. Levinson is a well-known and well-respected member of the philosophy of education organizations. When at conferences, with or without her, being a student of Dr. Levinson helps my colleagues and me to get invited into discussions.
What is the one piece of advice you would give to someone considering Kent State for grad school as a way of moving up in their career?
Reach out to the faculty in the program you are considering. Even if it is not required, schedule a meeting with the faculty to discuss your own academic and career goals, as well as their academic interests.
A visit to campus is ideal, especially if you are able to observe a class or other program activity. If that is not possible, schedule a Teams meeting with faculty and also with a current student in the program.
Considering choosing graduate school at Kent State? We can help you transform your career!
At Kent State University, we strive to be a community of change agents whose collective commitment to learning sparks epic thinking, meaningful voice and invaluable outcomes to better our society.

By fostering a culture of compassion and academic excellence, we transform lives and communities through the power of discovery, learning and creative expression in an inclusive environment.
If you have any questions about transforming your future with a graduate degree from Kent State University, we encourage you to request more information or start your online application today!

Are you ready to kickstart your academic journey?
Explore our digital resource:
Everything You Need to Know About Crafting a Remarkable Graduate School Application!