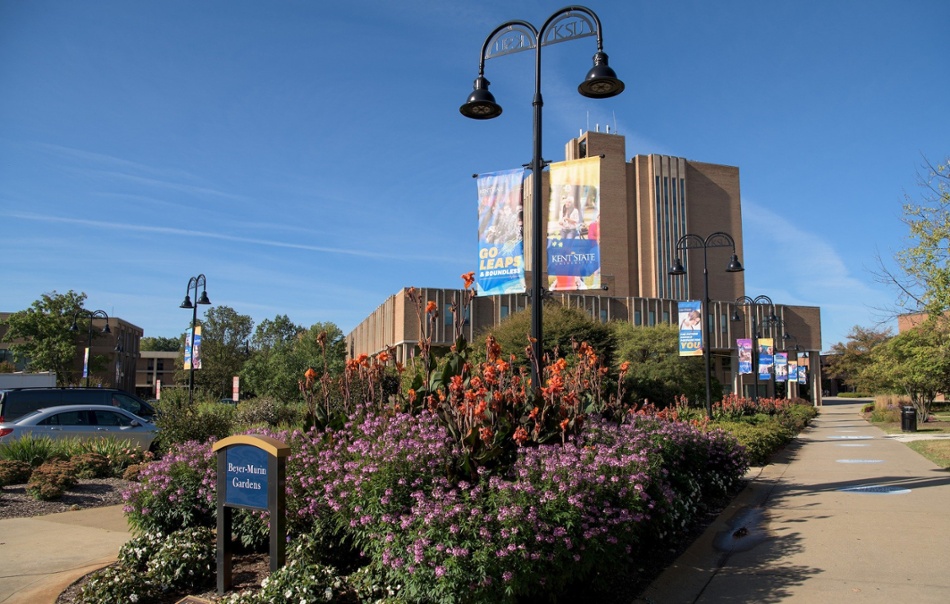 If you have been thinking about enrolling in a graduate program, but haven't taken the next step by submitting your application — the news we're about to share with you is a game-changer.
Out-of-state residents who have earned a bachelor's degree in Ohio can now take advantage of in-state tuition costs at Kent State University (thanks to a new in-state tuition option offered by the university).
This discount drastically reduces tuition costs, cutting the rate for eligible full-time graduate students by nearly half.
On April 1, 2020, Ohio Governor, Mike DeWine, and the Ohio Department of Higher Education Chancellor, Randy Gardner, announced that a new in-state tuition option will allow anyone who has earned a bachelor's degree from an Ohio college or university (public or private) to pay the in-state tuition rate for a master's or doctoral degree at Kent State University.
The goal of the governor's initiative is to help retain the top talent that is already being cultivated in Ohio colleges and universities, to further research efforts and to promote work in Ohio industry.
Kent State Continues to Lead the Charge with a New In-State Tuition Option:
Kent State is offering the in-state tuition option for all of its graduate degree programs, with the exception of programs within the College of Podiatric Medicine. Online graduate degree programs are also included in the in-state tuition option.

"This offers an incredible value for those looking to continue their studies and further enhance their credentials for career growth," said Vince Slomsky, director of strategic communications at Kent State. "We are pleased to offer in-state tuition to all who completed a prior bachelor's degree in Ohio."
"Kent State offers world-class graduate degrees, and we want to make them available to those who have been our neighbors in a way that clearly recognizes their contribution to the state. Offering them the in-state tuition rate honors their commitment and connection to Ohio as, together, we make a difference in the world," said Melody Tankersley, Kent State's interim senior vice president and provost.
Kent State's extensive offerings include 23 master's degrees in 108 majors and 146 concentrations and five doctoral degrees in 39 majors and 30 concentrations.
With an advanced degree to meet every need and interest, the only question left is — which one will you choose?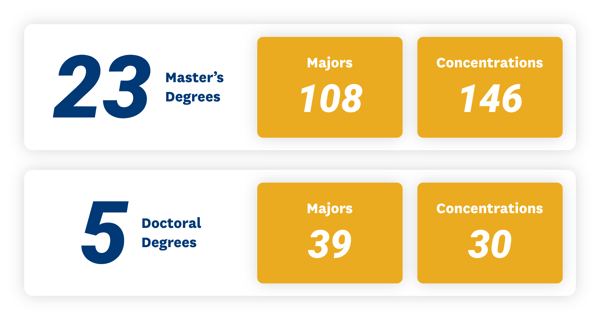 Pro-Tip: If you need help deciding which graduate degree is right for you, explore Kent State's Graduate School Decision and Admissions Guide!
Savings by the Numbers — Cut the Cost of Earning Your Graduate Degree:
For a non-Ohio resident pursuing a graduate degree, the new in-state tuition option will cut the cost of earning a degree full-time.
In addition to saving a significant amount while earning your graduate degree, you will also be setting yourself up for higher earning potentials in your future career. On average, those with their master's degree earn approximately $12,000 more annually than those with a bachelor's alone (and the difference for those with doctoral degrees is even greater.)
Get Started on Your Graduate Degree Today:
If you're looking for some more information to help you get started, we'd like to recommend the following resources:
You can also reach out to the Graduate Admissions office for help, or if you would like more information about the new in-state tuition option, you can email gradadmissions@kent.edu.
We're excited for you as you make this next step in your graduate school career, and we are even more thrilled that you'll be able to save money doing it. Best of luck!
Have more questions about the in-state tuition incentive on all of our graduate programs? Read our FAQs to learn more!