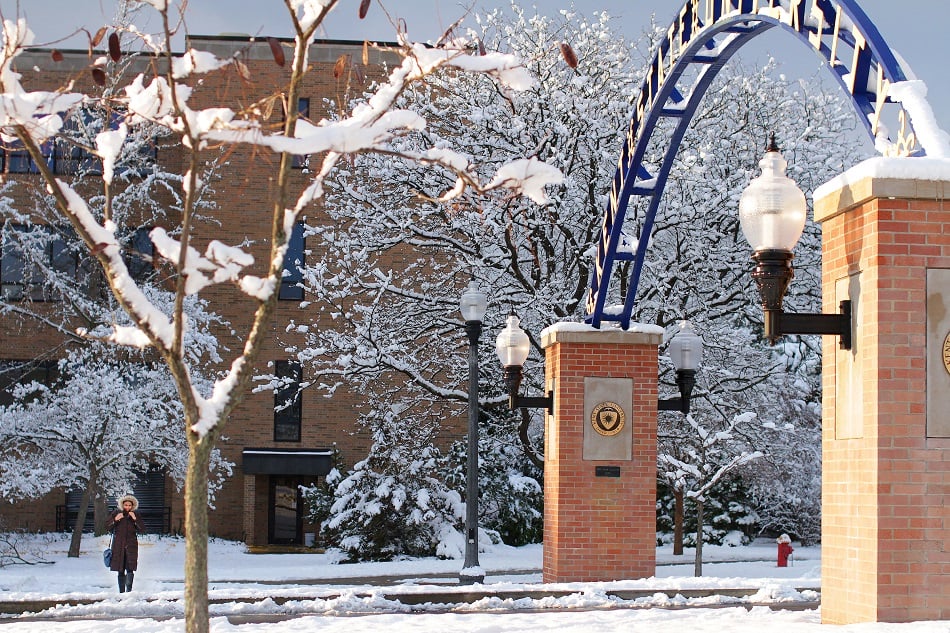 A new year can bring a lot of expectations, especially when it comes to your professional and educational success. To tackle these expectations, you might be considering pursuing a graduate degree this year. Before you dive headfirst into a graduate program, it is important to recognize that this endeavor, although undoubtedly enriching, will require effort, dedication and resilience to see it through.
Whether you're contemplating a career shift or simply want to get ahead in your field by choosing graduate school, there can be a lot to navigate, leaving you feeling overwhelmed.
That said, making some simple resolutions will help you become a more successful student, get into your dream program and pursue your career goals. Make this your year to grow, thrive and kickstart your graduate school journey.
Here are practical resolutions you can make this year to help turn your goals into reality:
1. Assess your strengths.
The first step of your graduate school journey should be determining where your strengths lie. Your strengths can help you determine the program you should pursue and what school would be the best fit.
By being honest with yourself and considering the type of environment you prefer, you are setting yourself up for the greatest level of success. If you're unsure of your strengths, or in what type of environment you would thrive, ask someone you trust to list your top three skills and use those as your starting point.
2. Master the art of tidying.
Believe it or not, decluttering your environment is crucial to staying focused, motivated and productive. Marie Kondo, a Japanese organizing consultant, asserts the notion that mental clutter is a direct result of physical clutter, which can cause frustration and inhibit progress.
So, start by tidying up your living and work-spaces, establish a mindfulness routine and make time for meaningful experiences.
3. Maintain a healthy lifestyle and don't overcommit.
It's no secret that we're at our best when we practice self-care – both mentally and physically. Make sure you are eating a balanced diet and keep your body moving to combat lethargy and brain fog.
Stress is also a major contributor to procrastination, laziness and poor performance. Look for areas in your life where you might be overcommitted and consider dialing back. Most importantly, don't let stress bring you down – take time for yourself, focus on what you love and make sure you're getting enough sleep.
4. Make an appointment with your faculty advisor.
Who better to walk with you on this journey than someone who has done it before? An advisor can help you find unique reasons to remain passionate about your areas of interest and keep you on track to reach your goals.
So, make an appointment, share your passion and let your advisor guide you through some practical next steps to turn that passion into reality.
5. Establish a plan for financing graduate school.
Making a plan for financing graduate school can seem daunting, but you may be surprised by how affordable it can be with proper planning. If you plan to continue working while pursuing your degree, speak with your supervisor or the human resources department at your company. It is not uncommon for companies to subsidize part or all of your graduate education tuition if the degree can be applied to your career.
If you aren't able to receive a company subsidy, consider outside options for financial aid. Set aside some time to explore scholarships, loans, grants, fellowships and assistantships that would be a good fit for you.
6. Try a new organizational strategy.
Staying on top of your responsibilities as a graduate student is essential, but what is the best strategy for you? Are you a list maker? Do you carry a planner everywhere you go? Do you prefer to keep a digital calendar?
Maybe you don't have a consistent strategy in place, or perhaps your current system isn't cutting it. The good news is there are many different organizational techniques you can try. Pick one (or two) that will compliment your strengths and test it out for a month, then, reassess and adapt your strategy as needed.
7. Stay focused on lifelong learning.
As a graduate student, your primary focus should be on learning, but keep in mind that learning isn't limited to the classroom. There are many ways to stay committed to learning – before, during and after graduate school. Look for ways to get involved at your school or in the community. Find a mentor, someone whose success you admire and set up a time to meet.
In short, look at everyday situations as opportunities to grow and develop skills that will guide you as you pursue your graduate degree.
8. Write down your goals and how getting a graduate degree will prepare you to reach them.
There might be times when you question the path you've chosen. It's important in these moments to remember why you started this journey in the first place. Are you hoping for a salary increase? Do you have your sights set on a promotion? Have you decided to make the switch to a completely new career?
Think about where you want to be when you graduate. Take a moment to reflect on your goals – write them down and keep them close to you. When you start to lose sight of your progress, remember all that you're working to achieve.
9. Explore your graduate program options.
It depends on your area of interest, but maybe it's already clear which graduate degree you need to pursue. For instance, maybe you already know that you want to be a clinical mental health counselor or a nurse, and thus, you have fewer options to consider.
That said, if you're currently looking to get a graduate degree in a business-related field, you will have a variety of respected business degrees to choose from (MBA, Management Systems, Finance, Accounting, Marketing), and you'll need to carefully consider which graduate degree will help you reach your professional goals.
10. Be proactive instead of reactive.
The best way to take advantage of learning opportunities is to stay ahead of change. Instead of falling into the habit of responding to things as they happen, be proactive and take control over the events in your life.
In addition to greater control and autonomy, proactivity allows you to focus more time and energy on the things that matter most to you, leaving you feeling more fulfilled.
11. Take the graduate school application process seriously.
Your grad school application should reflect the kind of person and the kind of professional you are. If you are strategic about what you include in your application — you'll effectively communicate that you're the kind of student who will make a fantastic addition to your institution of interest.
Let's talk about what programs typically look for in a candidate. Graduate admissions professionals seek candidates who:
Exhibit critical-thinking skills
Display unique personal characteristics
Articulate clearly defined goals
Reflect the values of the institution
As the applicant, you can exemplify these qualities by:
Doing your research and being proactive
While admissions professionals and program coordinators should serve as a resource to you throughout the admissions process, show that you are seriously interested by researching specific program details and application requirements.
Admissions professionals receive dozens (if not hundreds) of personal statements (sometimes called a goal statement) during the admissions cycle. Your goal statement is your chance to showcase who you are as an individual and what you have to offer the university.
Most graduate school applications include two to three letters of recommendation. For this reason, admissions professionals want to see detailed and engaging — yet clear and concise — letters of recommendation that highlight your professional and academic achievements.
Connect with Kent State University today!
At Kent State University, we strive to be a community of change agents whose collective commitment to learning sparks epic thinking, meaningful voice and invaluable outcomes to better our society.

If you have any questions about transforming your future with a graduate degree from Kent State University, we encourage you to request more information or start your online application today!
Are you ready to kickstart your journey to a graduate degree in 2021?
Explore our digital resource: Everything You Need to Know About Crafting a Remarkable Graduate School Application!