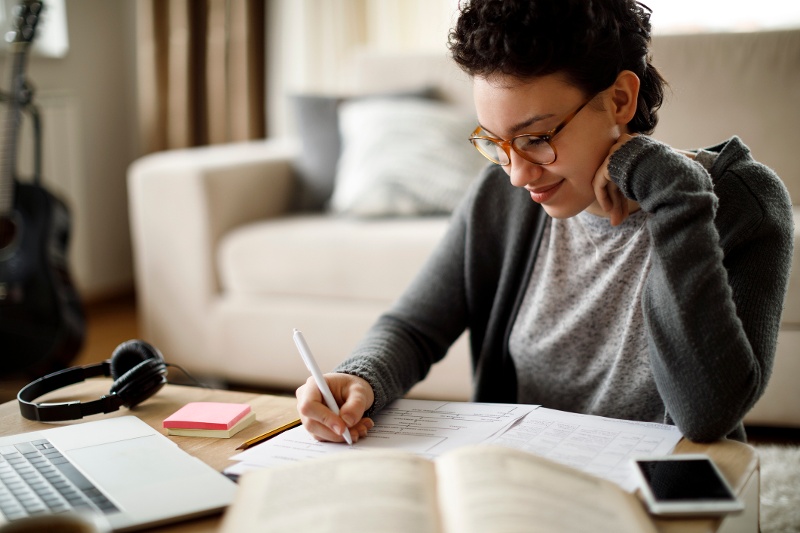 Making the decision to further your education with a graduate degree or certificate is the first step toward increasing your earning potential as well as the career opportunities available to you. While you may know that you want to earn graduate credentials, you may have questions regarding how you will make time to earn an advanced degree while juggling your professional and personal life. Fortunately, online graduate school programs enhance your ability to balance your responsibilities with the opportunity to advance your education and ultimately, your career.
As institutions continue to provide online graduate programs (especially in light of today's coronavirus pandemic), Kent State University maintains its commitment to extend education beyond the classroom and provide opportunities through online platforms and resources. The online graduate programs at KSU are developed using typical course materials and assignments and use the online course management system, Blackboard Learn, to conduct class participation via synchronous and asynchronous discussions.
Depending on the course, some instructors may require students to attend a synchronous class session with all students simultaneously signing in for a lesson, while other lessons or videos are posted for asynchronous access, allowing students to access the materials at their leisure. The flexibility of online degrees and online certificates allows you to study and complete your work from home, prevents you from needing to relocate and gives you the time needed to successfully balance work and family.
Allow us to showcase just a few of the many graduate programs available through KSU online:
1. M.Ed. Educational Technology
Our master's degree in educational technology is a great option if you are a teacher looking to gain prowess with the technologies used in classrooms and seeking the skills needed to use them effectively. This degree may also appeal to professionals who are in teaching or instructional roles in the realms of corporate training, instructional design, web-based learning or multimedia design.
KSU offers this online degree with four learning tracks:
Management of educational technologies
Designing instructional and performance solutions
Immersive technologies for learning
Online and blended learning and teaching.
2. Nonprofit Management Certificate
The nonprofit management certificate is a great option if you want to position yourself in a leadership role in the nonprofit sector. Some of the positions you could pursue include fundraising director, organization leader, project manager or CFO.
The fully online certificate program prepares you with management skills and, more specifically, with the best practices that are sought after in nonprofit organizations including ethics, financial management, board development, fundraising and advocacy.
3. M.Ed. in Evaluation and Measurement
The master's degree in evaluation and measurement should be your educational trajectory if you want to pursue a career as a program evaluator. This degree is designed to prepare teachers and administrators to evaluate programs in schools but also to serve professionals pursuing careers in evaluation, research and psychometrics in fields outside of education.
By earning this fully online degree, you will gain the skills needed to evaluate programs, understand how and why the program is or is not working, develop strategies to overcome problems and monitor program changes to ensure effective solutions.
4. MSN Nursing Administration and Health Services Leadership
The MSN nursing administration and health services leadership post-graduate certificate is fully online and allows you to develop skills in healthcare management, leadership and advanced nursing. This certificate focuses on healthcare policy and legal issues that you will face as a leader in the healthcare industry.
The practicum requirement will partner you with local healthcare executives and other professionals for mentorship and professional development. These partnerships may also turn into career opportunities upon graduation.
5. Behavior Intervention Specialist Certificate
Kent State's behavior intervention specialist certificate is a great option if you want to learn research-based best practices and the skills required to work with at-risk youth in schools and other environments due to emotional, behavioral or social challenges.
The certificate will train you to collaborate with other professionals and parents or guardians to create, implement and evaluate positive behavior support programs for children with behavioral concerns.
6. MSN Adult-Gerontology Clinical Nurse Specialist
The MSN adult-gerontology clinical nurse specialist concentration prepares you to provide advanced nursing care to patients ranging from young adults to the elderly population. This fully online degree will develop your expertise in direct patient care, research, consultations, collaboration, ethics and advocacy for patients spanning the entire adult spectrum.
MSN adult-gerontology clinical nurse specialists generate influence with patients and families, nursing personnel and policies within the healthcare system. The specialized training will position you as a sought-after expert in caring for aging adults.
7. Geographic Information Science Certificate
The geographic information science certificate will provide you with specialized training to use critical thinking in the geospatial sciences, spanning various sectors including business, military and nonprofit organizations. This certificate will develop your technological skills and hone your problem-solving astuteness when planning response strategies for topics ranging from climate change to transportation.
Online Learning Support for KSU Student
We know taking a class online is different than in the classroom. The Office of Continuing and Distance Education serves all students by providing information regarding basic technological skills you need to participate in an online course, expected course workload, and strategies for becoming a successful online student.
Choosing Online Graduate School at Kent State University
Kent State University is a pioneer in online and distance education, offering its first online programs more than 15 years ago. Kent State now offers more than 50 degree and certificate programs online, unmatched by most peer universities.
With this in mind, all of the aforementioned graduate degrees are 100% online and provide you the freedom to complete your education while being location independent.
Not only does the flexibility of online graduate school give you the ability to maintain balance in your lifestyle, but the completion of an online degree also gives you experience with online collaboration and demonstrates that you have the self-discipline that is needed to follow through. An online graduate degree is the perfect opportunity to make time to further your education and increase your opportunity for career advancement from the comfort of your own home.
If you are ready to pursue a graduate degree at Kent State University, please request more information or start your online application today! We cannot wait to help you develop your skills so you can excel in the field you are passionate about.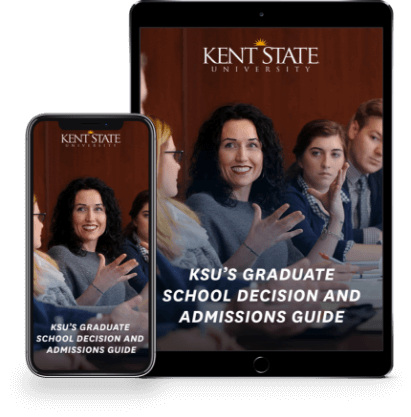 Want a breakdown of the entire graduate school application process? Check out our comprehensive resource: KSU'S Decision and Admissions Guide!