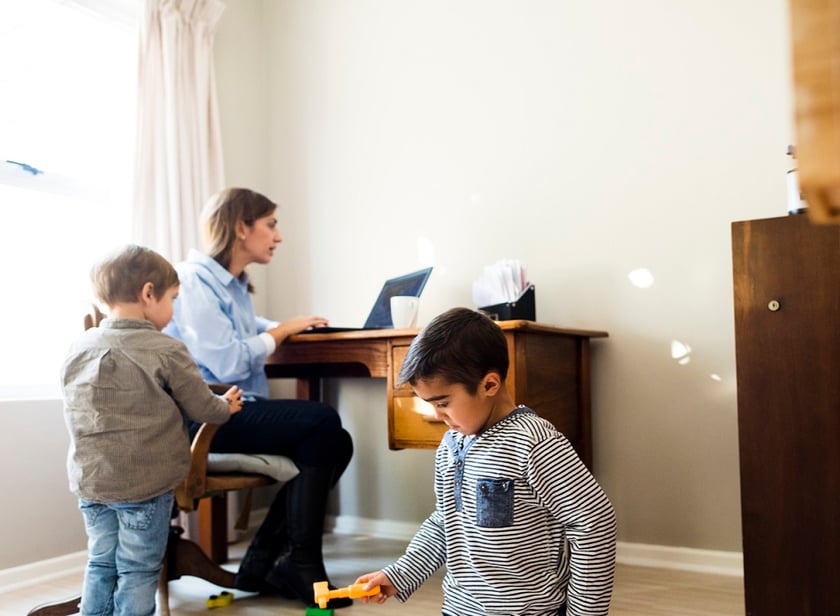 Mamas — we see you, and we appreciate you.
If no one has told you yet today, you are doing an outstanding job. If you have not been thanked yet today — thank you for your heroic work. We know you go to bed later than your family so you can straighten up the house and you wake up earlier than everyone so you can make breakfast, pack the lunches and get the kids ready for school. Maybe the kids are attending school at home in your living room now. In addition to being the best mom, you are also being the best teacher. We know you do all of this with patience and joy (as much as you can muster).
The decision to return to grad school is never a simple choice for anyone, but we especially applaud you for taking the first steps in advancing your career. Whether you are just starting to investigate your graduate school options or have decided that you are ready to apply to your program of choice, preparing to take the GRE or GMAT may be in your future. In addition to your full- or part-time profession and your full-time job raising healthy human beings, finding time to study for graduate entrance exams will not be easy, but it will be worth it.
Here is a quick overview of the tests:
What Is the GRE/GMAT?
The GRE and GMAT are both graduate-level exams that help showcase your knowledge and skills as part of the admissions process for graduate school. The exams are designed to evaluate your analytical writing, quantitative reasoning and verbal reasoning skills. The results are used by admissions or fellowship panels to supplement your undergraduate records, recommendation letters and other qualifications for graduate-level study.
There are slight differences between the tests, although most experts agree that the GRE provides a significant advantage with the ability to go back and answer skipped questions. While the GRE is the most common test requirement, some business schools require you to submit GMAT scores to be considered for their programs. Check the application requirements carefully for your program of interest before registering for an exam to ensure your scores will satisfy the test requirement. Not all master's or doctoral programs require these tests though. If you can't find testing information for your program it is best to ask which test (if any) is preferred.
It is important to note that the COVID-19 pandemic has disrupted business as usual for GRE and GMAT testing. As a result, many graduate programs have eliminated the test requirement or are willing to offer test waivers if you meet other admission requirements. For instance, Kent State is offering GRE waivers for many of its graduate programs.
If you will be required to submit test scores be sure to check out testing availability too. If testing sites are closed in your area, both GRE and GMAT are offering at home testing options. While staying home might be more convenient than going to a test center, you will want to ensure that you have uninterrupted peace and quiet to take the exam. We know this can be a challenge in a busy household.
Now that we've covered the exams, here are some tips for navigating this process!
Tip #1
— Know Your Motivation
Taking on graduate-level work when you have a busy home life or demanding professional life or both is a big decision. It's important that you take the time to identify why you want to go back to school and what you're passionate about. Otherwise, when things get tough, you'll find yourself wondering why you took this challenge on in the first place.
Ask yourself the questions below and identify what's motivating you to boost your career with a graduate degree:
Do you want to change careers?
Do you want to make more money in your current role?
Do you want to qualify for a promotion?
Do you want to nurture your love of lifelong learning?
Tip #2 — Identify the Right Grad Program
Once you've clearly identified your motivation for going to grad school, it's time to start doing the research on schools and programs. There are several important things to consider as you select a program that will work well for you.
Ask yourself if the program fits your lifestyle and consider whether the program will prepare you to reach your career goals. Before really diving into GRE test prep, you'll want to determine that the programs you're applying for will align with your professional and personal goals.
Tip #3 — Get Your Family Into a Routine
Not only is a disciplined routine good for children and their parents, it will really help your children when you are studying for the GRE and eventually going back to school. As you begin your studying and preparation, sit your kids down and have a conversation with them. Let them know that mom is studying for a big, important test, and the routine around the house is going to be really important.
It will take some adjusting and practice, but as they acclimate to the routine you've set, their independence will equal more study time for you. These reliable chunks of study time will most often be after the kids are down for the night or before you wake them in the morning.
Tip #4 — Study Smart
There are so many ways you can study smart as a mom. When you sit down to study, make sure you are using your time efficiently. It may seem simple, but actually studying the material that is on the test, identifying and focusing on your areas of weakness and using good prep materials can make a huge difference.
Next, pick a place that will allow you to study productively. Perhaps this is locked away in your room or at a library that is open for socially distanced studying. Designating a space for study can help you to focus better during your study sessions.
Having a set time and place to study will help you get the most out of each session, but don't forget to bring work with you everywhere you go. Always having your materials on hand will allow you to maximize your productivity, and those 15- and 30-minute study opportunities add up quickly.
Tip #5 — Enlist Help
Set up a virtual study group with others who are prepping for the test. You can find groups online or through GRE/GMAT prep courses. If possible, find a mentor to walk through this process with you. It could be a person who has taken the test, an old professor or a GRE/GMAT test prep instructor. Don't hesitate to ask them questions and reach out to them when you are struggling.
Enlist help around the house. If your children are old enough, assign them some of the household chores. If you have a spouse or partner, communicate with them and ask them to assist you in protecting your study time. If you do not have a spouse or partner at home, ask family members and friends for help. You might also consider hiring a trusted babysitter a few times a week so you can have some uninterrupted study time.
Tip #6 — Shift Your Expectations
It is okay to shift your expectations in a few areas of your life right now. For this season of life, the house might not be super clean, the kids might not have the most creative lunches, all the laundry might not get done — but everyone will learn to cope, and life will go on. If the house is a wreck, everyone is eating PB&Js for the fourth time in a week and the temptation to feel like you let your children and family down hits you — remember that you have not, and cut yourself a break.
It is important to recognize that your kids are learning from your example. Your priority of bettering yourself for your family and persevering in furthering your education is an example that speaks far louder right now than an immaculately clean home.
Tip #7 — Remember to Take Care of Yourself
With everything going on, it is easy to forget about caring for yourself. However, you can't be a happy mother, a good student or a productive employee if you don't spend a little time on yourself.
Make sure that you care for your mental, physical and emotional well-being. When you take care of yourself in these areas, it leads to more productive and focused study time.
Choosing Graduate School at Kent State University
At Kent State, we are committed to supporting mothers studying to better themselves and their families. We have several resources to support you, like our Kent State Women's Center. The Center assists women through advocacy, education, offering referrals, education, information programs and services — and promotes a culture of dialogue and collaborative outreach support.
Studying for the GRE/GMAT and going back to grad school is possible as a mother. You are strong, smart and extremely capable of achieving your dream. We can't wait to see you thrive. In the meantime, feel free to request more information or start your online application today!
Looking for more information related to how to prepare for graduate school? Download Kent State's Guide: Everything Moms Need to Know About Going to Grad School.