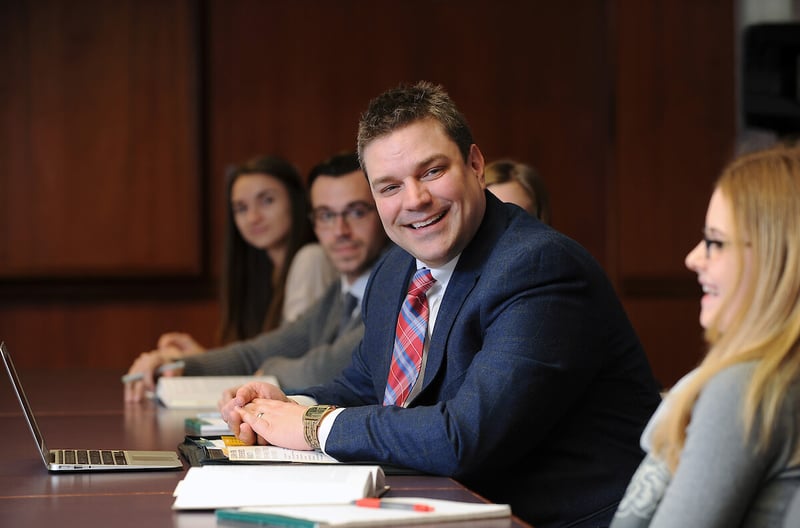 Frequently we hear from students who are considering their graduate degree in business, but, for one reason or another, push off the possibility until another time. While there are many good reasons to wait to return to school, there are also some that could be holding you back.
The reality is this — going to graduate school is a smart financial choice with concrete rewards that can drastically impact your life in a positive way and, believe it or not, pursuing a graduate degree now is actually in your best interest — both financially and professionally. Read on for five compelling reasons to pursue a business-focused master's degree in 2020.
1. The sooner you start studying, the sooner you can maximize your earning potential.
If you're aiming to increase your short and long-term salary potential, a graduate degree in business is the way to go.
In general, master's degree holders earn about 18 percent more than bachelor's degree holders. For those who hold a master's degree in business, however, the outlook is even better: According to a 2017 study by the National Association of Colleges and Employers, going to graduate school for business can earn you a substantial wage increase. In fact, those with master's degrees in the field of business enjoy some of the highest wage premiums out of those with master's degrees overall.
2. Pursuing a graduate degree now (rather than later) means that you'll be well on your way to obtaining your dream job.
If you're dissatisfied in your current field, a graduate degree can help you change your career for the better. Because of its versatility, an MBA is one of the master's degrees that is best suited for those who are hoping to take their career in a different direction. Instead of continuing to work at a job that you don't enjoy, you can begin a graduate program that has the potential to help you begin a more challenging and fulfilling career.
Even if you want to stay in your current field, obtaining a master's degree may help you land that coveted promotion much faster than you would otherwise. You'll gain relevant knowledge and skills through your coursework and demonstrate your dedication to your career — valuable benefits that can enable you to easily climb the corporate ladder. In short, getting a master's degree in business is a proactive way to work your way up in the field, rather than waiting around in hopes of a promotion.
3. The current job market is strong, particularly for those with a degree in business.
Did you know that the job market right now is the strongest that it's been in more than a decade? The unemployment rate is currently 3.6 percent, the lowest it's been in almost two decades, and there are more job offers and better salaries available to grads, meaning that the outlook for new graduates is bright. It's also worth noting that business degrees are in increasingly high demand. Both of these factors mean that now is the ideal time to consider going to graduate school.
4. Yes, we know that school is expensive — but unfortunately, it's only going to get more expensive in the coming years.
Just taking a look at the cost of a graduate degree can be enough to deter someone from applying to school these days. Considering the exponentially rising costs of college tuition, however, it makes much more sense to get your master's degree sooner rather than later.
Over the past 20 years, there has been a stunning 237 percent increase in tuition rates for in-state public universities, and costs are only going to rise in the near future. It's also important to realize that if you wait longer to go to graduate school, you're forgoing the potentially significant salary increase that a graduate degree can provide!
5. At Kent State University, you can choose the graduate degree that is best suited to your needs.
If you have a busy schedule and are looking to study part-time, our Online MBA is a flexible program that you can complete in as little as 12 months or as long as six years — whatever works for you! You can go at your own pace, and even request to take a leave of absence if necessary. A relevant undergraduate degree is not required to apply for this program.
In sum, there are numerous professional and personal reasons obtaining your master's degree in business in 2020 is a smart move. To discuss our online graduate programs, contact us for more information. We are excited to help you reach your full potential!
Discover the information you need to make an informed decision about attending graduate school — check out KSU's Graduate School Decision and Admissions Guide today!