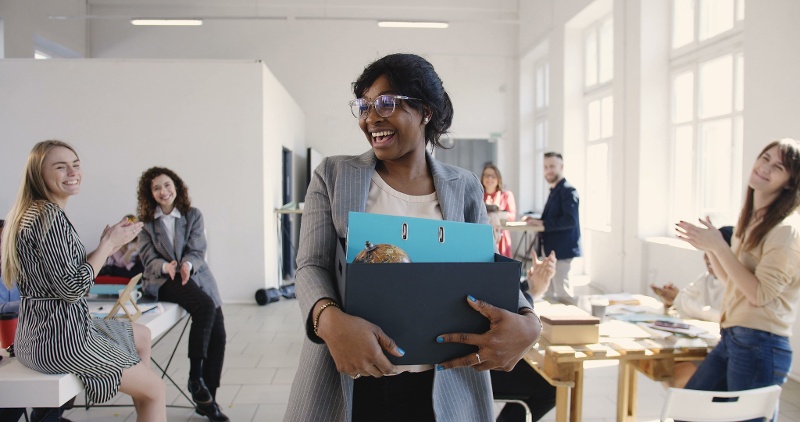 Each year, countless professionals choose to change careers. In fact, the average person will change careers five to seven times during their professional working years.*
Facilitating a career change can seem challenging to even seasoned professionals, but if you're considering joining the thousands of individuals who make a career change every single year — you should know you're not alone if you're unsure of where to start.
Let's talk about a few career change statistics along with some of the best graduate degrees for making a career change.
Career change statistics today:
If you're looking to make a career change (even in an unrelated field), you're not alone. Here are some facts on career changing for you to consider.*
Nearly 70 percent of professionals are actively looking to change careers right now.
39 percent of professionals make a career change in order to make more money.
Only about 14 percent of workers say they wouldn't make a job change.
45 percent of employees say they aren't paid what they should.
Almost 74 percent of workers express feeling hindered by micromanagement.
With these statistics in mind, let's explore some of the best graduate degrees for career changers.
1. Make the change to a career in education.
For many, the field of education is a rewarding profession and a lifelong opportunity to improve the lives of the next generation, but why is the field of education so great for career changers?
According to flexjobs.com, deciding "what you want to teach is a great way to utilize your previous career in a new teaching career. While some teachers, such as elementary school teachers, will instruct on all subject areas, high school or college-level teachers usually have one specific area."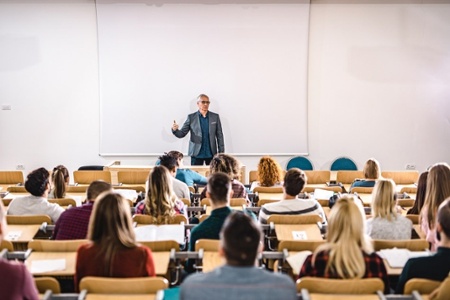 For instance, if you're working as an editorial executive or writer, you could use those skills to transition into an English teaching career. Further, if you previously worked in sport medicine, you may consider finding a teaching-related kinesiology career. The options in education are endless, and you can use your prior career to accelerate you into a meaningful education position.
Pro Tip: Looking for a non-teaching job in education? Check out this blog — 6 Non-Teaching Jobs With a Master's in Education.
2. Jumpstart a lucrative career in business.
It's no secret that getting an MBA continues to be popular — in part, because professionals working in business have countless option to consider. From business analytics to marketing, from fashion merchandising to government contracting, business professional are needed in nearly every industry.
If you're looking to launch a business career, then pursuing a Master of Business Administration could be a strategic choice for you. Armed with an MBA, you could secure a career as a chief technology manager, an investment banker, a top executive, a business analyst or countless other roles.
Pro Tip: Looking to secure a business career? Download our Online MBA and Business Analytics Guide!
3. Find a new innovative or green design career.
Are you looking to secure a career that will allow you to tap into your creative spirit? If so, a career related to innovative design could be the perfect fit for you.
Innovative design is simple and intuitive, yet groundbreaking and forward thinking — going past the limits of what is believed to be possible. It seamlessly fills a need that society does not yet know exists. It is ambitious, timeless, meaningful and different — but not for the sake of being different.
In the field of innovative or green design, you can find work in architecture design, environmental design, urban design, landscape architecture, visual communication design, user experience design or healthcare design.
Pro Tip: If you want to learn more about the field of human-centered design, check out this blog — 5 Innovative Graduate Programs to Land a Career in Human-Centered Design.
4. Learn about translator careers for those who speak another language.
In light of our world's increasingly connected global market and as communities all over the world continue to become more intertwined with the rise of technology, the need for professionals proficient in translation studies increases. The marketplace feels the void of competent translators in many languages, including Arabic, French, German, Japanese, Russian and Spanish.
With the job market for translators and interpreters booming — the Bureau of Labor Statistics reports 24 percent increase in jobs in the next 10 years — this projection recommends the profession to those seeking job security.
In order to bridge this gap between cultures, translators step in to perform a variety of roles within the scope of interpreting spoken and written communications from one language to another. In short, getting a master's in translation could be a good choice if you're looking to find a career in this niche and important field.
Pro Tip: Looking for more information regarding translator careers? Download our Guide to Getting a Master's in Translation.
5. Transform healthcare with a health informatics degree.
Healthcare continues to be one of the most critical and transformative fields today. While many mid-career professionals choose to become a nurse or physician's assistant, there are other careers in healthcare that align with those who are interested in technology and analysis, such as health informatics.
Health informatics is the science of evaluating, implementing and utilizing technology to manage all information related to the patient care delivery process. The informatics field also draws contributions from the clinical sciences, social and organizational influences, computer science and business practices.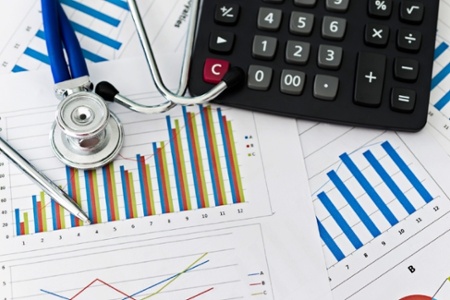 Some health informatics job titles include health informatics consultant, nursing informatics specialist, chief medical information officer, electronic medical record keeper and healthcare IT project manager.
Pro Tip: Learn more about Kent State's Master of Science in Health Informatics here.
Thinking about making a career change? At Kent State, we can help you do exactly that!
Switching careers is completely normal and sometimes it's completely necessary as your passions change and your skills grow. You may be daunted by the idea of changing paths mid-career, but the path ahead can be relatively straightforward and is certainly worth the effort.
We hope you will get in touch with us so that we can give you a comprehensive overview of graduate school, why it matters and how it will be helpful in your journey toward a new career — feel free to request more information or connect with an admissions counselor!
You can also review our admissions requirements or start your online application today.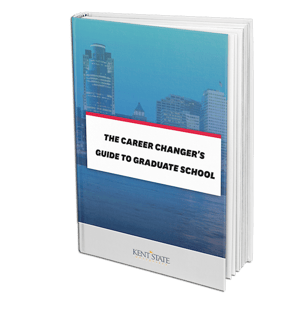 Ready to make a career change?
Download and explore
The Career Changer's Guide to Graduate School.