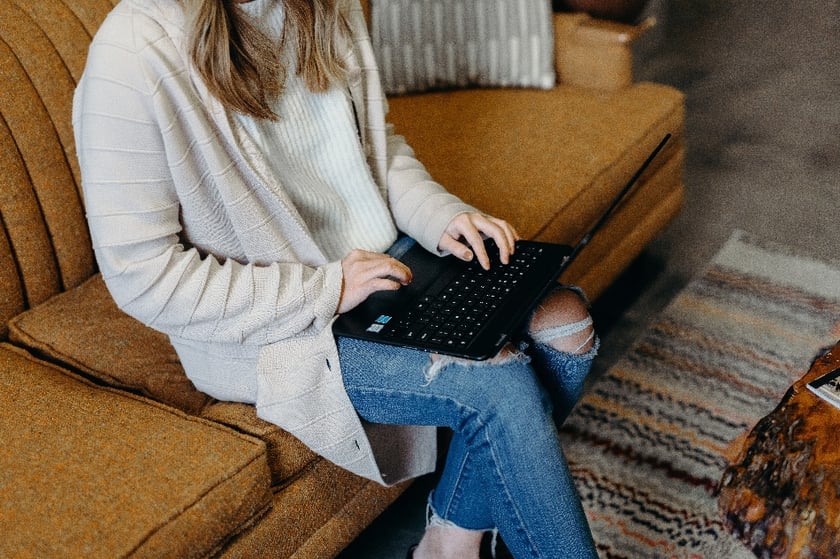 It's 4 p.m. on a Wednesday, and you have been glancing at the clock every half-hour since your lunch break, wondering if you can sign off and go home. It's not the people — you like your boss and your co-workers — it's the job you're unhappy with.
Perhaps you were interested in this career right out of undergrad, or maybe it was your first job offer as you searched for employment during your last semester of college. At the time, your present career seemed like everything you wanted, an exciting opportunity to grow professionally and put your skills to work.
But after working in the field for a number of years, it's become clear that this profession is not for you. In this situation, you have two main options:
1) Trudge through the next several decades until you can retire, OR
2) Take the necessary steps to facilitate a career change.
A career change may be the better option (no one should be unhappy for decades), but that will require new skills and in most cases, additional education. Ideally, you would love to go back to school for a master's degree, start fresh and nurture that passion of yours, but graduate school is only for those young 20-somethings with no kids, no full-time job, and limited responsibilities, right?
Not true!
As you explore the possibility of grad school, here are five myths about going back to graduate school you should cast aside.
Myth #1: "There is no point in going back to graduate school now that I'm older."
Today, the average graduate student is 33 years old, and 22 percent of graduate students are 40 years or older. Concerns about age are a common stumbling block for those looking to return to graduate school, but think of it this way — you can either spend the next several years in a job you don't like, or you can do something about it and know that soon you will have the experience and education necessary to make a permanent career change for more happiness and personal fulfillment.
If you find yourself thinking "yeah, but I'll be even older when I graduate," remember that if you don't return to school, you may waste several years in a career you don't enjoy. You might as well go for it – you have nothing to lose and so much to gain.
Myth #2: "I can't go to graduate school and keep a full-time job."
Although it would be easiest to quit your job and return to school full time, giving it your entire attention, that's usually not a feasible option. With families to support, mortgages to pay and now tuition, work is often a necessity even while attending school.
According to a Georgetown University study, approximately 75 percent of graduate students worked 30 hours or more per week. So, how do you balance school and work?
Prioritize planning, preparation and time management; find a good way to let your employer and co-workers know that you are enrolling in classes; research financial aid and online or hybrid class options; find ways to work smart; and make time to take care of yourself.
Pro Tip: Hear from one mom who went back to graduate school, How I Juggled a Family and a Graduate Program — From A Mom Who Did It.
Myth #3: "Financing graduate school will be too difficult."
Yes, graduate school comes with a cost, but data shows us that it is really more of an investment in your future than a financial burden. According to the U.S. Bureau of Labor Statistics, the median annual income for employed persons with a master's degree is thousands more than the income for someone who only holds a bachelor's degree.
For this reason, the data indicates that the degree pays for itself within a few years – a small price to pay to secure a more fulfilling career.
Myth #4: "I can't get a master's degree with an unrelated bachelor's."
As a college freshman, the pressure of choosing the right undergraduate degree can seem overwhelming — as if the future of your professional career depends on this one choice.
Fortunately, research suggests that the decision you made as a stressed 18-year-old doesn't have significant bearing on your career or your ability to return to graduate school to pursue an unrelated degree.
In fact, according to a study by the Federal Reserve Bank of New York, only 27 percent of workers with a college degree were employed in fields closely related to their major.
So many professionals return to grad school to get a master's degree with an unrelated bachelor', so don't let the history degree, which seemed like the perfect decision at the time, hold you back from returning for your MBA, MSW or MPA.
When applying to graduate school programs, don't worry if your undergraduate degree is not an obvious transition into your new area of study. Often, graduate schools are more interested in how you will add to the program — your passion, work ethic, related soft skills and relevant work experience. Make sure to highlight these areas when applying.
Myth #5: "Completing a graduate program will take a long time and delay my career change even further."
The longer you put off returning to school, the more hesitation and fear will accumulate as you think about the decision. There will always be something that makes it "not the right time" to return, but holding off on graduate school for fear it will delay your career change will only extend the time needed to make that career transition.
When you decide to make a jump from one field to an unrelated area, you need the education, skills and credibility that a graduate degree offers. Attempting to begin a new career field without graduate school can stagnate your career and reduce the potential for promotions and increased income.
Additionally, as the cost of graduate school increases, it makes the most financial sense to return as early as possible. Each year that you don't return for a master's represents a missed potential opportunity for an increase in earned income. There is no better time than the present!
Going back to school for a master's degree? Connect with Kent State University!
Returning to graduate school in the middle of your career can be challenging, but many find that the reward outweighs the cost. Don't let misconceptions keep you from taking the next steps toward a career that you are passionate and excited about.
As you consider choosing Kent State for graduate school, we invite you to request more information or apply today!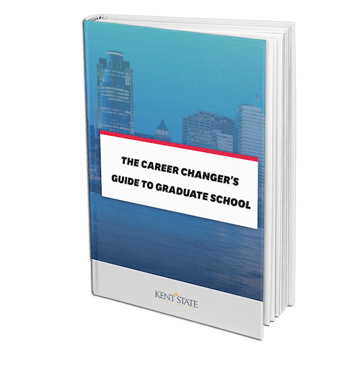 Check out our resource for more information and tips on how to make your career transition today — The Career Changer's Guide to Graduate School.