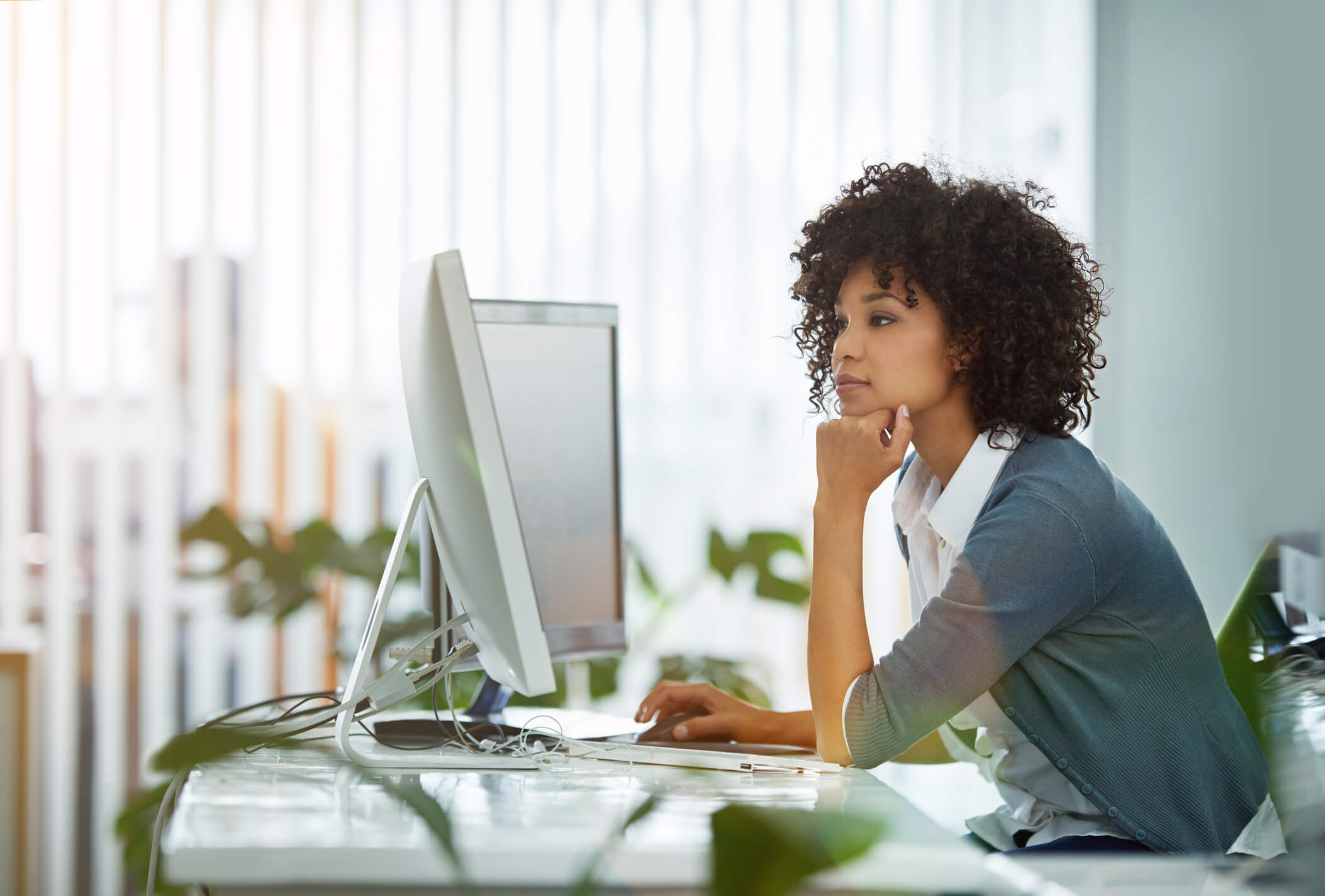 Design is an interdisciplinary field that has the power to play in and transform a multitude of industries. But what does it actually mean to be a designer in today's varying professional landscapes?
If design's role in business still feels ambiguous to you and if you're still unsure of the specific questions you need to ask yourself before enrolling in a design program, don't worry — we're here to help. We've done the hard work for you by mocking up 16 questions you should consider before making the decision to pursue a design-related profession.
/strong>
Questions for the Aspiring Designer
1. What does design really mean?
Design was once considered a luxury until business and design thought leaders, such as Buckminister Fuller, Don Norman, and David Kelley, came around and embraced a human-centered research methodology known as design thinking. Today, design focuses on way more than just aesthetic — it also focuses on creating the ultimate user experience. Strong design creates a product, service, or brand that delivers a positive emotion that entices the targeted audience.
2. What are some of the key studies regarding why design matters?
A simple Google search will provide countless articles on why design matters to business, but here are two to get you started:

Wired,

Why Human-Centered Design Matters

— features the Kellogg brand evolution and discusses human-centered design methods for everyday use in companies that wish to stay innovative.

Harvard Business Review,

Design Matters for Management

— a case study that differentiates the"design attitude" from the "decision attitude," explaining "

why creativity needs the guiding energy of a design attitude in order to focus our efforts on results that will be truly innovative and produce long-lasting organizational betterments."
3. What career opportunities are available to designers?
Design plays a crucial role in every industry that wants to focus on innovation and human-centric thinking. While every professional should try to understand some aspects of design, here are some specific career titles for working designers:

UX Designer

— for those who are passionate about the psychology of design and creating the ultimate user experience, whether it be a tech interface or an experiential design scene. UX designers fully embrace design thinking.

Graphic Designer

— for those who love the details of branding and digital storytelling. Graphic designers share and promote ideas through visualization.

Art Director

— for those who want to lead other designers through the details of graphics and cohesive designs. Art directors are attentive to the details that paint a much larger picture.

Creative Director

— for those who love playing a role in the full design process, from brainstorming to development. Creative directors are idea generators and leaders.

Fashion Designer

— for those who love fashion and staying up-to-date with the latest trends. Fashion designers love to inspire their consumers to look and feel their best.

Architects

— for those who are passionate about building community. Architecture is an interdisciplinary field that encompasses things such as sustainability, building infrastructure, and city planning.
4. What is the career outlook for designers over the next 5-10 years?
Career outlook for designers can vary depending on the industry in which they work, but the overall job growth is projected to steadily increase over the next couple of years. As more companies strive to be innovative, designers are sure to become the next competitive advantage.
"Employment of art and design occupations is projected to grow 5 percent from 2016 to 2026, about as fast as the average for all occupations, adding about 41,100 new jobs. More workers will be needed to meet the growing demand for animation and visual effects in video games, movies, television, and on smartphones, as well as to help create visually appealing and effective layouts of websites and other media platforms." —Bureau of Labor Statistics

5. What are the salary expectations for designers?

Salaries depend on variety of factors — such as location, industry, company size, and chosen job title. Of the titles we mentioned, here is an annual salary snapshot: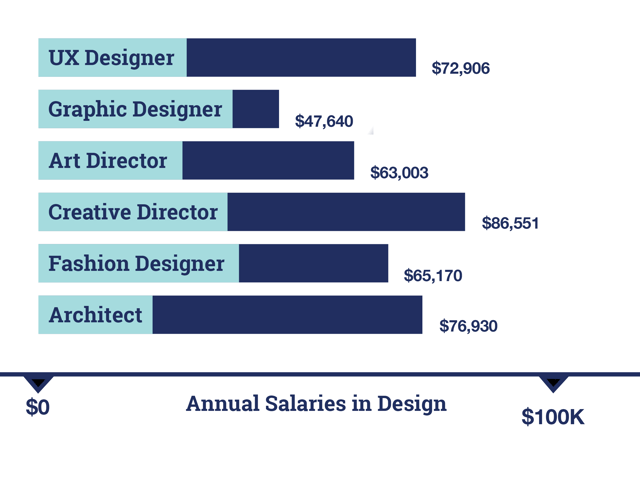 Questions for the Inquiring Designer
6. Do I have to have a design background to be a designer?
The necessity of a design background greatly depends on the field. Architects have an extensive design background that averages between 4-6 years. On the other hand, design strategists and researchers tend to emerge from a variety of diverse fields.
Diversity is essential to design strategy because it helps to integrate multiple departments within an agency and view projects through different scopes, such as user experience. Diversity helps you manage multiple projects and wear several different hats within an agency — and ultimately, elevates you as a leader.
7. Will I need a post-graduate degree?
Not necessarily. While an advanced degree in design is not always necessary to succeed professionally, it certainly helps those who aspire to be thought leaders within their industry. For example, architecture-related fields are very niche and require extensive education in order to be credible within the field — generally, with no exceptions.
But even for areas of design that thrive with diverse backgrounds and don't necessarily require an advanced education (like creative direction), a master's degree can help credible professionals stand out amongst those with a standard bachelor's degree.
8. Do I want to enroll in an online program?
Maybe! Online programs are great if you crave maximum flexibility that allows for an internship or full-time job experience. But before enrolling in an online program, consider the pros and cons: Is sacrificing face-to-face time with professors really worth the flexibility? Or is the program designed in a way that optimizes both flexibility and authentic professor relationships? Ultimately, enrolling in an online or in-person graduate program should be based on personal preference and strengths.
9. Will I need a certification in my chosen design field?
Architecture fields require certification. However, there is an association for almost every design industry that offers resources and information regarding the necessary certifications:

10. How should I start compiling a portfolio?
It's never too soon to start a portfolio. Your portfolio should show off your many skillsets while staying cohesive to your personal style or brand. If you are in need of a little inspiration, try brainstorming the industries most appealing to you and research the companies that are being the most innovative within those industries — take a sneak peek at some of the work they are doing and push yourself to think like them, but in new/innovative ways.
IDEO

— "a global design company committed to creating positive impact."

Frog Design

— "designs systems of brand, product, and service" by focusing on human emotion.

Gensler

— "widely recognized as the world's leading collaborative design firm, not just the largest."

Questions for the Proactive Designer
These last few questions are a bit more reflective because design is a matter of the heart. We can provide you with the resources you need to get started in your design journey, but in the end, your decision should be supported by your personal passion and purpose.
11. What kind of design really matters to me?
Design is innovation — so you really need to consider what fields you are most passionate about. Since design continues to become a necessary part of industry success (instead of an added bonus) — technology, health care, education, cities, and suburbs — don't limit yourself! The options are endless.
12. Who are the people I want to serve?
Or rather, who is your target audience? Where do you see the greatest need? Many of these answers will follow once you figure out what kind of industry you want to lend your design talents within.
You could be passionate about serving a range of audiences like:
Pediatric Care and Education

Geriatric Care and Accommodation

Women Empowerment

Diversity Promotion

Addiction Recovery
13. What is my brand?
Your brand is your design voice. So, before taking the plunge into a design field, consider the story you want to share with the world.
14. Where should I start networking?
The beauty of networking is that it can happen anywhere once you start talking to people. Talk to your professors, your neighbor, friends, family, friends of family, strangers on an airplane — push yourself and be outgoing. You never know where someone is willing to share with you.
Build your community; build your power network!
15. Should I join any associations?
Yes! Why miss out on a group of people who share your interests and want to work with you to drive innovation? If a resource is provided — take it. One of the best associations for designers is The Professional Association for Design (AIGA). On the other hand, Architecture has several great associations (depending on the area of architecture that you choose), including The National Council of Architectural Registration Boards (NCARB).
16. Will I have to relocate in order to pursue my career?
Not necessarily. Design can happen anywhere, but knowing the answer to this question will be easier if you already know the specific industries you want to join. For example, industries like health care and education are all around the globe, but fashion design is promoted more in places like New York City, while the Silicon Valley is known for its technology innovations.
Decide on an industry and then take a deep dive into researching the most powerful cities hosting innovation for that specific industry.
Recap of the Decision-Making Process for Aspiring Designers
There are seven steps to the decision making process:
Ask Questions

Gather Information

Analyze the Options

Develop Ideas

Evaluate Ideas

Select/ Make the Decision

Take Action
Here at Kent State, we hope to provide the questions and some of the resources to help you get started in deciding whether or not the design industry is right for you. Now it's up to you to dive deeper into research and analyze your options before making the best decision.
Kent State wants to keep you up-to-date on news and trends related to various fields of design. The Admissions Team at Kent State invites you to subscribe to our blog, Flash Forward, so that we can help keep you in-the-know regarding academic and professional advancements in your chosen field.